It has been more than six months since international shipping regulators revised the area considered as 'piracy high-risk' away from India's western coast, and now, unofficial estimates peg the potential savings for shipping companies around 23,000 crore to 25,000 crore annually.
Despite the revision in the high-risk area zone and a piracy incident free spell, the Indian Navy will continue with its anti-piracy mission, naval officials said.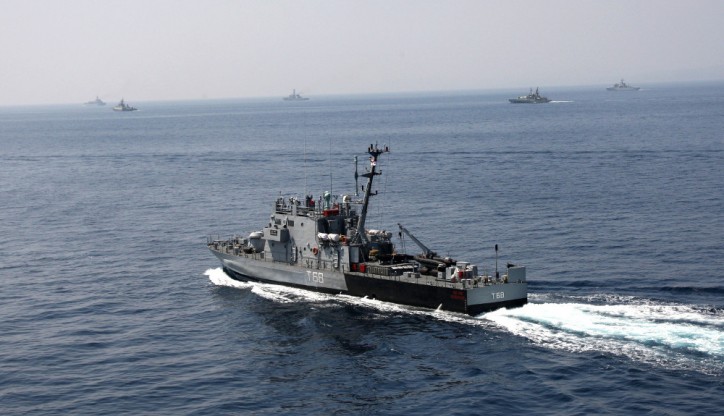 Representative image: Bangaram-class patrol vessel INS BARATANG T68 - Photo courtesy: Indian Navy
"We have not lowered out guard. There hasn't been a single piracy incident, there may have been attempts, but it has been an incident free spell. Surveillance along the west coast is still on," vice admiral Western Naval command flag officer Commanding in-Chief Girish Luthra said.
According to Naval officials, the Indian Navy will continue to dedicate a warship to anti-piracy patrols, a full-time mission that it has undertaken since 2008. A full time anti-piracy mission ensures that the Indian Navy, at all times has three warships involved, with one warship on active maritime patrol, one warship on standby and one vessel being replenished and prepared for the next deployment.
"One capital warship is on piracy patrol at all times with one or two helicopters, and one element of special forces on board," a naval officer said. On October 8 2015, the European union Chair of the Contact Group of Piracy off the Coast of Somalia revised the limits of the piracy high-risk area (HRA) from 78 degree east longitude to 65 degrees east longitude with effect from December 1 2015.
"This has led to tremendous savings for shipping companies because they were paying high insurance premiums as they were transiting the high risk area. Secondly, ships were travelling faster to cut down their duration of travel and fuel consumption was double if the vessel is run beyond advisable limits," a Navy commander based in Mumbai said.
Insurance providers imposed an additional war risk premium on merchant ships, including vessels carrying export and import cargo, transiting piracy-prone areas. The high-risk area limit was extended from 65 degree east longitude to 78 degree east longitude, or India's western coast in 2010, after a surge in piracy incidents off the coast of Somalia and the Gulf of Aden. "Shippers were paying heavy amounts to 'floating' armories and security agencies who would hire retired commandos and service personnel to protect ships. These were mainly Dubai based firms," the naval officer said.
Source: Times of India