OOO LUKOIL - Nizhnevolzhskneft (a wholly-owned subsidiary of PJSC LUKOIL) has accepted from its contractor, Bumi Armada Berhad, and put into service three ice-class vessels, says LUKOIL.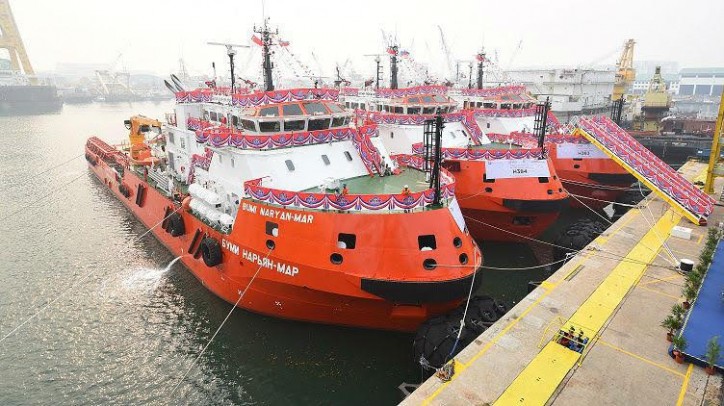 Image courtesy: Keppel Singmarine
Bumi Uray, Bumi Pokachi and Bumi Naryan-Mar vessels were built to be used on the Vladimir Filanovsky field in the Caspian Sea.
Bumi Naryan-Mar is a standby/rescue vessel equipped with oil spill response equipment and fire fighting system, which can take up to 125 people on board during rescue operations.
Supply vessels Bumi Uray and Bumi Pokachi will deliver cargo and personnel as well as remove industrial and household waste from the platforms as part of LUKOIL's commitment to the zero discharge principle.
Standby/Rescue Vessel BUMI NARYAN-MAR - Image courtesy: Denis Ryabushchenko
Technical characteristics of the vessels allow them passing through the Volga-Caspian canal and their ice-class makes them suitable for year-round operation.
Related news: Three Ice-Class OSVs Successfully Delivered By Keppel Singmarine
Source: Lukoil