In a hot and festive celebration, held last week (July 18), at Cosco Shipyard in Guangdong, China two of Vroon's newbuilding vessels were named.
Livestock carrier Gudali Express was christened by Mrs. Stacey Stanton, wife of Michael Stanton, Managing Director International Livestock Export.
VOS Passion, a PX121-type platform-supply vessel (PSV), was christened by Mrs. Mireille Vroon, wife of Vroon Group Managing Director, Coco Vroon.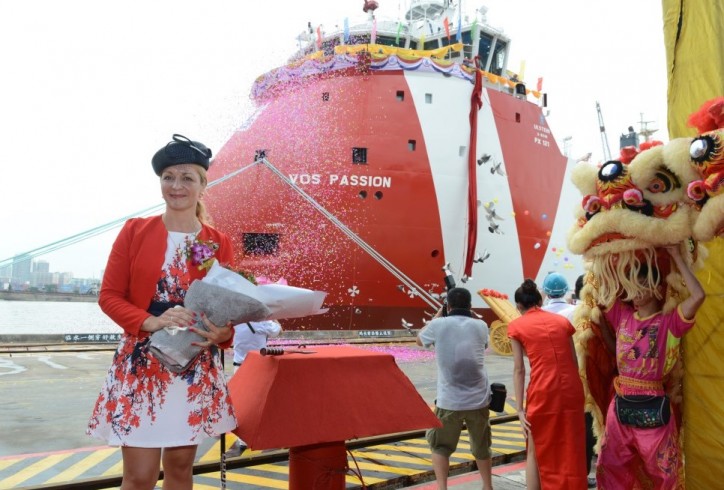 Image courtesy: Vroon
In their own unique markets, both these vessels are at the very forefront when it comes to new design and technology ensuring optimal fuel efficiency and maximum comfort on board, be it for crew, clients or cargo – in the case of Vroon livestock carriers.
Gudali Express is the final vessel in a newbuilding programme of seven next-generation livestock vessels, constructed in Guangdong and operating under the Livestock Express banner. These vessels have a cargo capacity of approximately 4,600 sqm (around 4,000 head of cattle) and a cruising range of about 18,000 NM, sufficient for a voyage from Brazil to China and back without refuelling. They are fitted with animal-welfare facilities (ventilation/watering/feeding) exceeding Australian (AMSA) regulations, which are considered to be the world's most stringent. The vessels also feature a new design of bow that results in increased animal comfort, enabling animals to be delivered in a healthy condition. An additional benefit of this design is significant fuel saving, while still maintaining a high service speed of approximately 16.75 knots in heavy weather.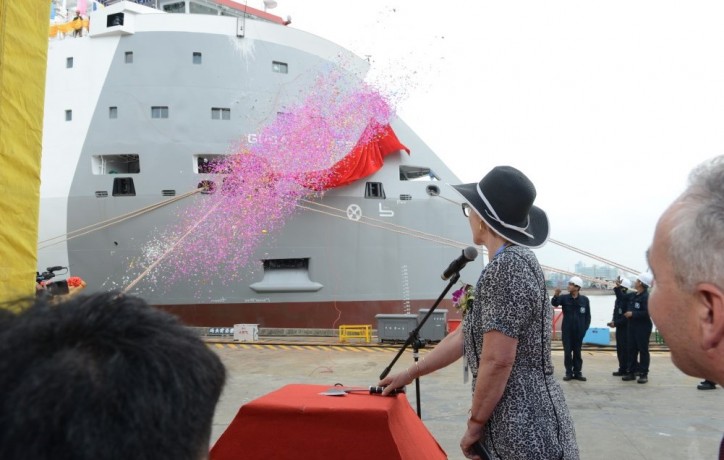 Image courtesy: Vroon
Upon completion of the Christening ceremony Gudali Express left the Shipyard to commence a charter with Messrs. International Livestock Export. All guests lined up to wave vessel and crew farewell from the bridge of VOS Passion, the second vessel named. VOS Passion is in the final stages of construction and will be ready for delivery next month. She is the fourth of six PX121-type PSVs being built at the Shipyard for Vroon, featuring the Ulstein-patented X-BOW® design to provide smoother vessel movements in harsh conditions.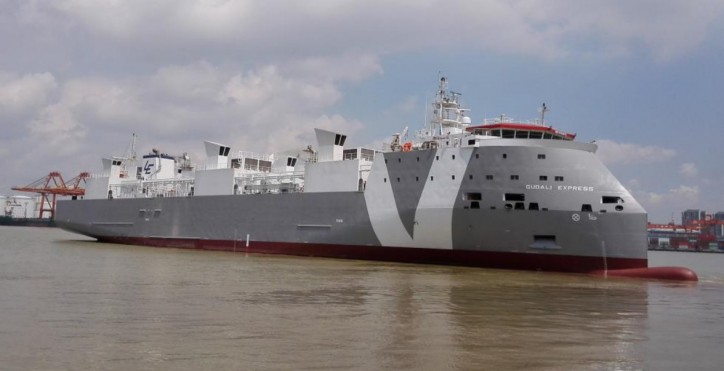 Livestock Carrier Gudali Express - Image courtesy: Vroon
In addition, these PSVs comply with ABS class requirements for dynamic-positioning system Class II (DPS-2) and reduced noise and vibration to satisfy a Comfort-Class notation. In combination with the X-BOW®, these measures guarantee benefits in operation and fuel efficiency, as well as higher comfort standards for the crew. With a length of 83.4 metres and a beam of 18 metres, the vessels provide 850 m2 deck space and a load capacity of 4,200 tonnes (dwt).
Once delivered, all PX121s will operate under management of Vroon Offshore Services.
Source: Vroon