Two new coal ship-loaders to be installed at the Carrington coal terminal arrived in the Port of Newcastle on Sunday afternoon.
Port Waratah Coal Services chief executive Hennie du Plooy said the two loaders would be installed at Carrington over the coming months, with the three existing ship-loaders taken away and scrapped.
Mr du Plooy said the loaders had been built near Shanghai and shipped from China.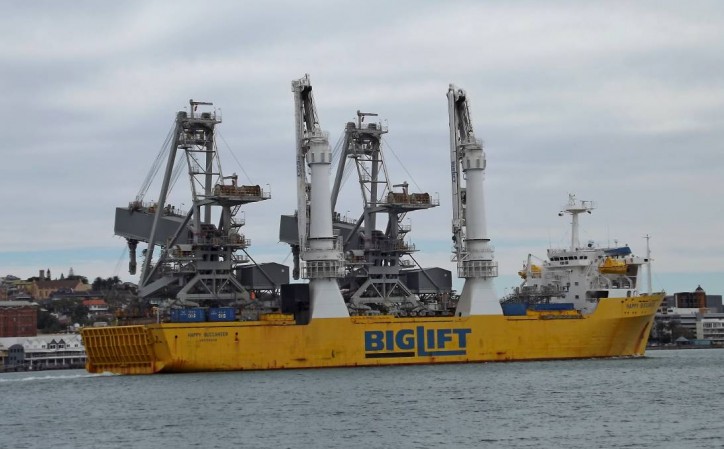 Ship-To-Shore: Two new ship-loaders bound for the Carrington coal terminal on board the specialist "heavy lift" ship Happy Buccaneer in Newcastle harbour on Sunday. Picture: Richard O'Connor
The overall cost of the contract was about $60 million, with $22 million of that amount being spent in Australia, including $9 million "locally".
Although anti-coal activists have pushed to have the Carrington loader shut down due to its proximity to housing – restricting all coal-loading to Kooragang Island – the new ship-loaders shows PWCS intends to keep the terminal operating.
Mr Du Plooy said on Friday that PWCS had a lease on the Carrington site until 2024. He said negotiations had started with the operators of the privatised port to extend the lease.
The two ship-loaders were brought to Newcastle on board a heavy ship lift, the Happy Buccaneer, operated by Dutch company BigLift.
The Happy Buccaneer tied up at the Dyke 4 wharf at Carrington coal terminal early on Sunday afternoon, having been delayed by a few hours by a "lumpy" swell at the heads.
Shipping enthusiast Richard O'Connor said a number of people had gathered on the shore to watch the unusual vessel make her entry.
Mr du Plooy said it would take a week to lift the new ship-loaders onto the wharf.
"The three existing ship-loaders will be removed during the commissioning phase, and will be dismantled offsite," Mr du Plooy said.

"Commissioning and integration into the operation will take about five months and we expect to resume normal operations at Carrington by the end of the year. Our operations on Kooragang Island will be unaffected."
PWCS is licensed to export 145 million tonnes of coal a year – 120 milllion tonnes from Kooragang and 25 million tonnes from Carrington.
Rival operator Newcastle Coal Infrastructure Group is licensed to ship 66 million tonnes from its loader on Kooragang.
In 2015, PWCS exported about 109 million tonnes and NCIG moved more than 49 million tonnes.
Mr du Plooy said 15 million tonnes went through Carrington last year, meaning it was only operating at about 60 per cent of its licensed capacity.
The two new ship-loaders had the same capacity of 2500 tonnes an hour as the ones being replaced. This compared with the 10,500 tonnes an hour maximum for the Kooragang loaders.
Source: The Herald