Protection Vessels International (PVI) is a global leader in armed maritime security, protecting and defending large shipping vessels in areas such as the Gulf of Aden, the East Coast of Africa and the Indian Ocean. It aims to ensure the safe passage of its clients across these seas where piracy still exists and maritime terrorism is posing a new threat.
PVI's parent company, PGI, is a leader in cyber security solutions as well as providing geopolitical risk consultancy, corporate intelligence services and an array of security training.
Please find below PVI's Weekly Maritime Security Report 27 Jul 2016:
East Africa and the Indian Ocean
Yemen: Gunmen fire shots at merchant vessel off Hanish Islands 22 July
A cable laying vessel reported that 16 heavily armed pirates on board two skiffs opened fire on their vessel west of Jazirat al Hanish al Kabir island in the Red Sea. The assailants were armed with rocket-propelled grenades and AK47 assault rifles when they targeted the cable ship, which was travelling at 0.5 knots. The embarked armed security team fired warning shots at the gunmen before the skiffs moved away. The merchant vessel reported that it was safe.
PVI Analysis: The incident underscores the continued threat of attacks targeting merchant vessels transiting the Gulf of Aden and the Red Sea. There have been several reports of suspicious activity in the region in 2016, including sightings of ladders and weapons on board vessels that indicate the continued presence of violent criminal groups in the High Risk Area. Reported incidents of piracy since early 2014 have clustered around the Gulf of Aden and Southern Red Sea, suggesting that the threat originates in Yemen, although the identity of the attackers remains unclear.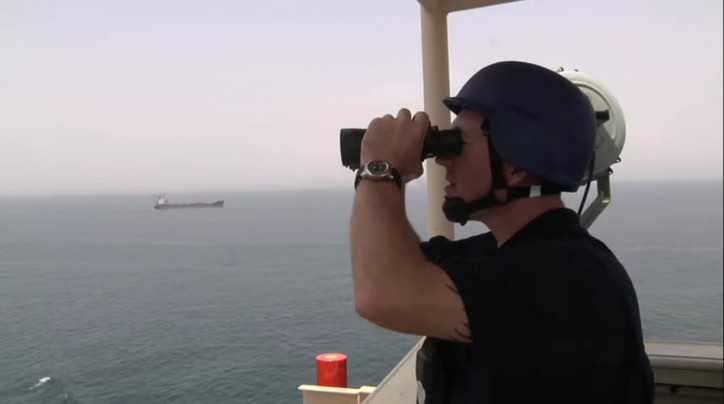 Southeast Asia
Indonesia: Robbers steal ship's stores at Samarinda Anchorage 24 July
Three robbers in a wooden boat boarded a bulk carrier anchored at Samarinda Anchorage at 2200 hrs local time. Crew raised the alarm upon sighting the thieves, prompting them to flee with stolen goods. The incident was reported to port control and port police subsequently arrived at the scene to investigate the matter.
PVI Analysis: Petty thefts are regularly reported at Samarinda Anchorage, many of which are carried out after dark when thieves are less likely to be sighted. Incidents of petty theft at ports are rarely violent in nature due to the proximity of security forces, although thefts from vessels further out at sea have been increasingly violent in recent months.
Malaysia: Authorities confirm five missing seamen were kidnapped by ASG off Sabah 20 July
Presidential adviser Jesus Dureza confirmed that five Malaysian tugboat crewmembers who went missing on 18 July were kidnapped by Philippine Abu Sayyaf Group (ASG) pirates off the coast of Lahad Datu in Sabah. The confirmation comes after authorities found an empty tugboat with the engine still running, which represents the latest in a spate of kidnappings by ASG in the Celebes and Sulu Sea since mid-March. No ransom demand has yet been made.
PVI Analysis: Tens of Indonesian and Malaysian seamen have been abducted by ASG from slow-moving tugboats since mid-March, as the militant group looks to raise funds from ransoms to finance its ongoing resistance to military operations in the Philippines' Basilian and Jolo islands.
Malaysia: Maritime curfew in Sabah extended to 7 August 22 July
The dawn-to-dusk maritime curfew in the Sabah waters off Tawau, Semporna, Kunak, Lahad Datu, Kinabatangan, Sandakan and Beluran has been extended to 7 August due to the rise in nearby abductions by Philippines Islamist militants since mid-March. The curfew from 1900 to 0500 hrs local time was imposed in July 2015 amid a growing threat of intrusions by the militant group in Sabah following the kidnapping of foreign nationals from restaurants.
PVI Analysis: According to Malaysian authorities, many of the tugboats which have been hijacked since mid-March were violating maritime guidelines and restrictions imposed with the aim of mitigating ASG abductions. The kidnappings have damaged Indonesian coal exports to the Philippines as some ports have imposed a ban on exports transiting the Sulu and Celebes seas where the attacks have taken place.
Philippines: Navy captures three suspected Abu Sayyaf vessels off Tawi-Tawi 22 July
Philippine naval forces seized three speedboats believed to belong to Islamist militant group Abu Sayyaf Group (ASG), and also arrested three suspected militants off Sitangkai Town on Panguan island in the Tawi-Tawi island province near Malaysia's Sabah. The arrests took place at around 1000 hrs local time as part of an amphibious military operation led by Colonel Fernando Gomez. ASG has carried out numerous hijackings of slow-moving tugboats in which they abducted tens of seamen in the Sulu and Celebes seas near Tawi-Tawi since mid-March.
PVI Analysis: The operation comes as part of an ongoing offensive against ASG by Manila, although newly elected President Rodrigo Duterte has not ruled out negotiating with the group. So far, the offensive has not significantly affected the group's capabilities to conduct kidnap for ransom attacks at sea. The attack comes as Indonesia prepares to deploy troops to the Philippines to rescue 10 Indonesian hostages previously captured at sea by ASG.
West Africa
Nigeria: Pirates attack vessel off Bayels 7 July
According to a late report, pirates attacked the offshore supply vessel Prince Joseph at around 1400 hrs local time some 80 nm off Bayelsa state coast. The attack was repelled by the Nigerian patrol ship Mediator but the vessel's master and chief engineer were reportedly kidnapped.
PVI Analysis: The late report demonstrates the continued threat to vessels off Nigeria from criminal gangs seeking to perpetrate kidnap for ransom attacks. There has been a significant uptick in such attacks in the Gulf of Guinea since January 2016, largely due to onshore instability in the Niger Delta and cuts to amnesty payments to former militants.