World Direct Shipping's new containership, the M/V Queen B, made its maiden voyage from Port Manatee on Tuesday as part of the cross-Gulf service with Mexico, according to a press release.
The Queen B is 430 feet long with a capacity of 700, 20-foot-equivalent container units and 128 refrigerated cargo plugs and will carry refrigerated produce from Mexico to the port, then return to Mexico with paper, recycled materials and oversized cargos.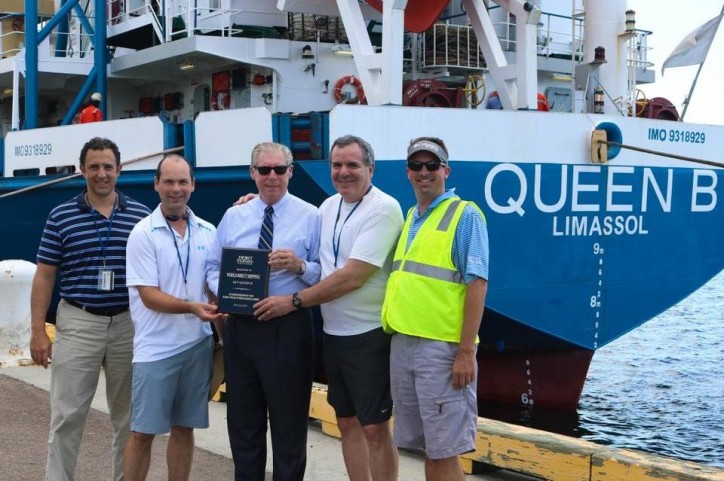 During the M/V Queen B containership's maiden call Tuesday at Port Manatee, the port's deputy executive director, Dave Sanford, presented World Direct Shipping officials with a commemorative plaque. Photo Provided By Port Manatee
"The right-sized M/V Queen B is ideally suited for this trade, offering enhanced energy efficiency, including the ability to smoothly transition to low-sulfur fuel when entering U.S. emissions control area waters," Carlos Diaz, co-director of World Direct Shipping, said in a press release.

"The vessel will carry on World Direct Shipping's established transit time of only 2 1/2 days – the quickest short-sea connection between Mexico and the U.S. Southeast, Northeast and Midwest."
That route, first initiated in November 2014 between Port Manatee and Coatzacoalcos, Mexico, was previously run using the M/V Falmouth.
"We are thrilled to welcome the M/V Queen B to Port Manatee and see it as a testament to the success of World Direct Shipping, which in less than two years has become one of Port Manatee's most significant tenants," Betsy Benac, chair of the Manatee County Port Authority, said in a press release.

"We look forward to welcoming this ship at the port for many years to come."
Source: Bradenton