Maersk Supply Service will reduce its fleet by up to 20 vessels over the next 18 months. The divestment plan is a response to vessels in lay-up, limited trading opportunities and the global over-supply of offshore supply ships. The first ten vessels are expected to exit the fleet in 2016.
Maersk Supply Service, CEO Jørn Madsen says "One of our prime objectives is to attempt to restore the demand balance in the offshore supply vessel market. This is why the vast majority of the divested vessels will be recycled or modified by their new owners to compete outside their present segments."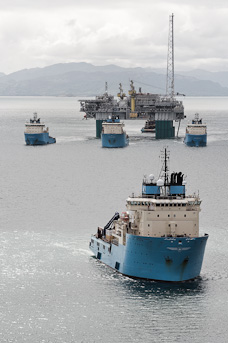 Maersk will flag its four new-build "Stingray" vessels to the Isle of Man registry.
A commercial hub will be established in the United Kingdom consolidating ownership and operation of the company's project vessels. This includes the "Stingray" vessels and five existing project vessels that will also be flagged to the Isle of Man registry.
As a consequence of the fleet reduction and the flagging of existing vessels, approximately 400 crew members will be made redundant.
According to Madsen "We are facing unprecedented market conditions, and regrettably we have to further adjust our crew staff. It is an unfortunate, but necessary step to safeguard the future of our company."
The redundancy process will cover all nationalities and is expected to be finalized by the end of September 2016.
Source: WorldOil