In June, Clipper announced that it will add four 32,000 dwt bulk carriers acquired from D/S Norden to its handysize fleet. The first two vessels, to be named Clipper Kastoria (ex. Nord Hong Kong) and Clipper Panorama (ex. Nord Vancouver), have been taken over by Clipper Fleet Management and dry docked at Besiktas Shipyard in Turkey. The ladies are laying side-by-side for painting and maintenance, including their First Special Survey.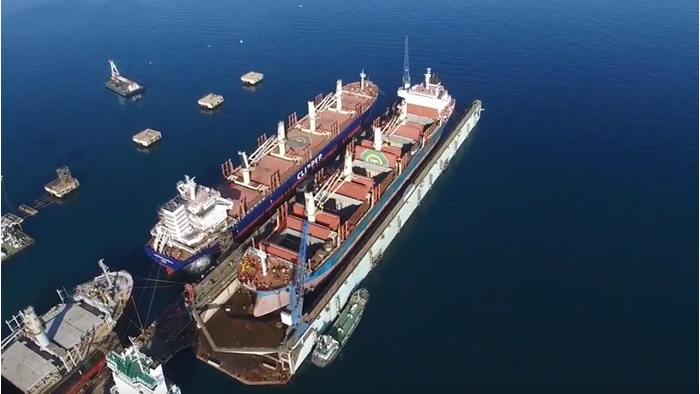 "Clipper Kastoria is expected to start trading within the next few days, while Clipper Panorama was dry docked yesterday. We are pleased to have these ladies in our technical management and look forward to having them at sea again." says Erik Carlsen, Head of Clipper Fleet Management.
Both Clipper Kastoria and Clipper Panorama will utilize Company's in-house vessel performance monitoring solution COACH to maximize fuel efficiency and vessel performance.
VESSEL DETAILS:
BUILT: 2011
DWAT: 32,312
DRAFT: 10.15 m
LOA: 179.90 m
BEAM: 28.40 m
FEATURES: Logger, grabs fitted
GRAIN CUBIC: 43,127 cu.m
HOLDS/HATCHES: 5/5
CRANES: 4 x 30.5 mt cranes
А short video published by Besiktas Shipyard shows the both bulkers in the yard facility:
Source: Clippers