OOCL, a Hong Kong-based member of the G6 Fleet which ranks ninth in the world, will take part in a regular container service that connects Incheon of Korea, China, Vietnam and Thailand.

The Incheon Port Authority (President Yoo Chang-keun) announced on August 22 that the CTS Line which connected Incheon Port to China, Vietnam and Thailand has been changed to CHL (China Hochiminh Laem Chabang) due to changes in ports of call, shipping companies and operated vessels among others.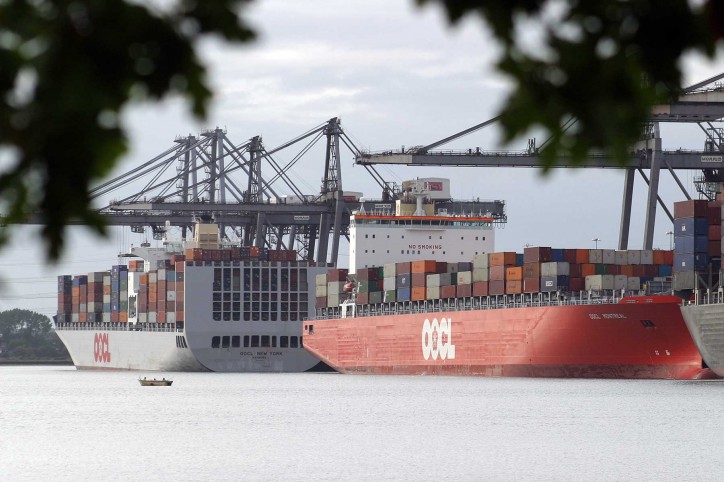 Containerships OOCL New York (left) and OOCL Montreal (right) - Image courtesy: OOCL

The new CHL will be run jointly by Taiwan's Yang Ming Line, Thailand's RCL (Regional Container Line) and OOCL. But the Yang Ming Line and the RCL will use their respective independent name – CT2 and RNT.
The CHL covers the route of Incheon – Dalian – Xinjiang – Qingdao - Hong Kong – Shekou - Ho Chi Minh City - Laem Chabang - Shekou- Hong Kong – Incheon, and offers services at Incheon Container Terminal of South Port at Incheon Port. The operation will be made in one-week intervals. The ship will make a call to the port every Wednesday and leave the port every Thursday.

The change in the service will lead OOCL to use two vessels, HS OCEANO (2,867TEU) and LAILI (2,702TEU), and make the Yang Ming Line and the RCL each put one 2,700TEU level container vessel into the services. So a total of four ships will be put into the services. The service will be launched when the HS Oceano enters Incheon port on September 7.

According to the Incheon Port Authority, OOCL will not only offer better services to shippers in the Seoul metropolitan area via the CHL service, but also utilize vacant container boxes in the Seoul and Incheon areas more efficiently.
"Recently, OOCL, that had not provided any service to or from Incheon Port since 2004, determined to put vessels into the CC1-CC2 combo service, the only ocean service of Incheon Port, and then decided to take part in the CHL service, which proves the shipping company's positive outlook on and expectation for Incheon Port," said Kim Soon-cheol, head of the Marketing Team at the Incheon Port Authority, adding "We will do our best to provide every support to make the service stabilization earlier."
Source: ICPA