Danaos Corporation (Danaos) (NYSE: DAC), one of the world's largest independent owners of containerships, today received notice that Hanjin Shipping Co. Ltd. (Hanjin) has filed for receivership with the Seoul Central District Court and requested that the court freeze its assets.
Danaos currently charters eight of its vessels to Hanjin on long term, fixed rate time charters. The time charters associated with these vessels represent approximately $560 million of Danaos' $2.8 billion contracted revenue backlog as of June 30, 2016.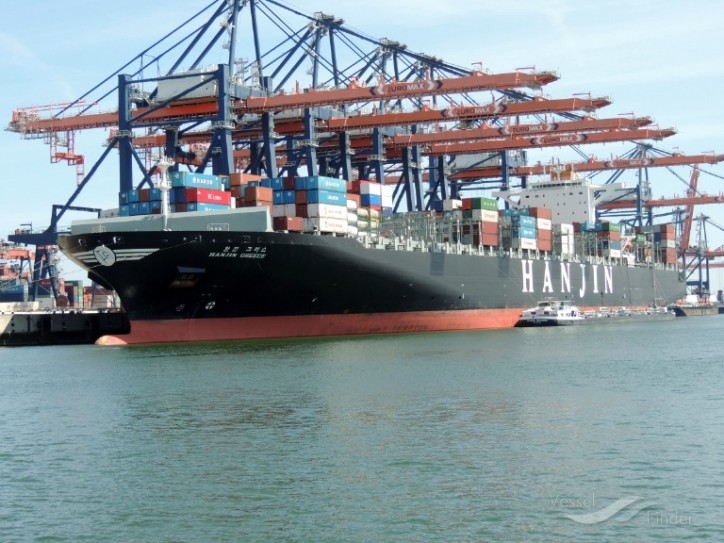 Post Panamax Container ship Hanjin Greece - Image courtesy: Ed van Dort
The vessels contracted to Hanjin include three 10,100 TEU vessels built in 2011 and five 3,400 TEU vessels built in 2010 and 2011.
"We are disappointed that the Korean Development Bank has failed to support an important participant in the global containership business," stated Dr. John Coustas, Chief Executive Officer of Danaos. "Danaos actively supported Hanjin in its efforts to restructure its operations and we are hopeful that Hanjin will be able to achieve a restructuring of its business and emerge from court receivership as a financially stronger company. We will closely monitor the process and seek to preserve the value of our assets for the benefit of our shareholders."
About Danaos Corporation
Danaos Corporation is one of the largest independent owners of modern, large-size containerships. Our current fleet of 59 containerships aggregating 353,586 TEUs, including four vessels owned jointly with Gemini Shipholdings Corporation, is predominantly chartered to many of the world's largest liner companies on fixed-rate, long-term charters. Our long track record of success is predicated on our efficient and rigorous operational standards and environmental controls. Danaos Corporation's shares trade on the New York Stock Exchange under the symbol "DAC".
Source: Danaos