Eastern Shipbuilding Group, Inc. announced yesterday the delivery of the M/V HARVEY STONE (Hull 234). The vessel was delivered on August 29, 2016 to Harvey Gulf International Marine, LLC of New Orleans, LA.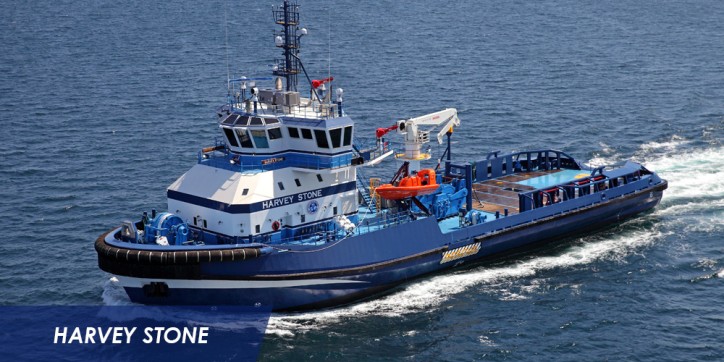 MPFSV Harvey Stone - Image courtesy: Eastern Shipbuilding
The HARVEY STONE is a Rampage 6400 Multi-Purpose Field Support Vessel (MPFSV), designed by Robert Allan, LTD of Vancouver BC. Eastern is also completing the HARVEY SUB-SEA and the HARVEY BLUE-SEA, two MPSVs under construction at Eastern, from a design provided by VARD Marine.
The HARVEY SUB-SEA is expected to deliver in 2016, after outfitting and sea trials are completed. The sister ship, HARVEY BLUE-SEA will follow along after. Eastern has delivered eleven (11) vessels previously to Harvey Gulf, including Offshore Supply Vessels, Light Construction Vessels and Ocean Service Tugs.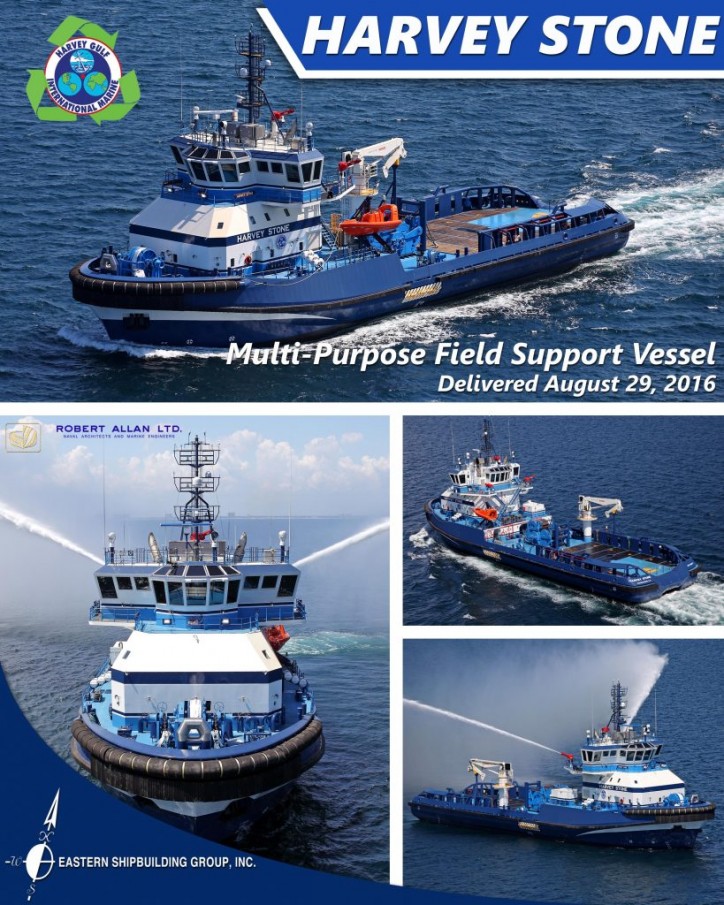 The HARVEY STONE features the following characteristics:
Design Designation: RAmpage 6400 MPFSV
ESG Hull #: H234
Design: Robert Allan, LTD of Vancouver BC.
Vessel Type: Multi-Purpose Field Support Vessel (MPFSV)
Contract Date: July 16, 2014
Launch Date: December 18, 2015
Delivery Date: August 29, 2016
Vessel Dimensions: 212'-7"x 59'-1"x 25'-7'
Regulatory: ABS Oceans Service, A1, AMS, Circle E, ACCU, ACP, UWILD, FFV-2, DPS-2, Offshore Support Vessel, Notation (DSV Capable, ROV Capable), TOW, SUPPLY, HAB+ (WB), ENVIRO,
Certifications: USCG/IMO/SOLAS/MARPOL
Flag: United States of America
ABS Bollard Pull: 121 Short Tons
Total Horsepower: 9,374 BHP
Main Engines: (2) GE Marine 12V250MDC IMO II, EPA Tier 4(i) marine propulsion diesel engines 4,687HP @ 1,000 RPM each Main PTI/PTO Clutches: (2) Reintjes LAF 3414P HL Marine Gears
Hybrid System: (2) 1,000kW Induction Shaft Motor/Generators with a DC Bus via Bi-directional Variable Frequency Drives (VFD's)
Main Propulsion: (2) Schottel Model SRP3030 CPP in Nozzles
Bow Thrusters: (2) Schottel STT2, FP each powered by 600kW electric motors
Main Generators: (2) Cummins QSK19DM Tier 3, 350kW @ 1800RPM
Emergency Generator: (1) Cummins QSB7-DM Tier 3, 120kW @ 1800RPM
Deck Crane: (1) MacGregor 10 Ton Hydraulic Knuckle Boon Crane
Deck Capstans: (2) MacGregor 5 Ton Hydraulic Capstans
Deck Winches: (2) MacGregor 15 T Hydraulic Tugger/Winches
Shark Jaws & Tow Pins: (2) Triples 200 MT Shark Jaws with Tow Pins Fwd. Anchor/
Towing Winch: (1) MacGregor Hydraulic Anchor Windlass/ Towing Winch Drum Rated Pull: 60.0 T x 0 ~ 50 m/min
Brake Holding: 100.0 T (static, 1st layer) Aft. Towing Winch: (1) Hydraulic Anchor Handling/ Towing Winch,
Drum Pull (1st layer): 150.0 T x 0~25.0 m/min 75.0 T x 0~30.0 m/min 20.0 T x 0~45.0 m/min
Drum Brake Holding: 300.0 T (static, 1st layer)
Founded in 1955, Harvey Gulf International Marine is a marine transportation company that specializes in towing drilling rigs and providing offshore supply and multi-purpose support vessels for deep-water operations in the U.S. Gulf of Mexico. Harvey Gulf is founded on the premise that superior performance and safer operations provide our customers value and satisfaction www.harveygulf.com. Eastern Shipbuilding Group, Inc. is very pleased again to be a part of Harvey Gulf International Marine's ongoing growth.
Robert Allan, LTD (RAL) of Vancouver, B.C. has provided the Rampage MPFSV Hybrid design and engineering which provides better diesel fuel efficiencies than vessels of the same class.
Source: Eastern Shipbuilding