The New Seastream Dynamic Positioning (DP) System Features a Mariner-Friendly Operator Interface, Delivering Flexibility and Efficiency for Maritime Operations
GE's Innovative Energy-Efficient Mode in the DP System Helps Optimize Fuel Consumption
As the sophistication and complexity of dynamic positioning (DP) systems have evolved, it has led to the risk that DP operators may have become preoccupied with managing the computer rather than managing the primary task of controlling the ship. In response to this potential risk, GE has revolutionized the operator interface of its SeaStream DP system to ensure that operators can rapidly familiarize themselves with the system, putting the control of the ship back in the hand of mariners.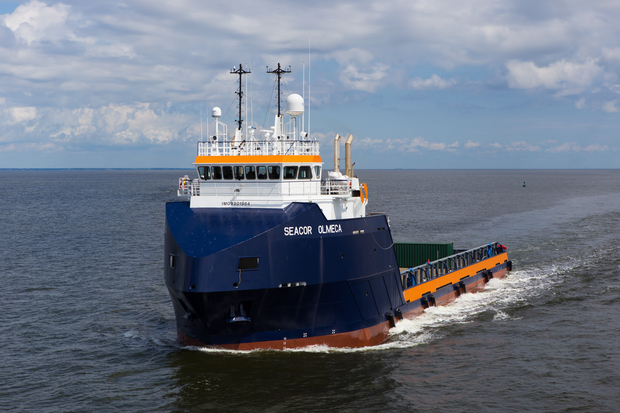 Platform support vessel Seacor Olmeca - Image courtesy: GE
Recently, SEACOR Marine LLC's platform support vessel (PSV) Olmeca has successfully completed its sea trial in Bayou Le Batre, Alabama, with GE's SeaStream DP system onboard.
"We have recently completed the DP sea trial on the SEACOR Olmeca PSV, and the system has performed superbly. We are very pleased with the outcome and look forward to future installations going as well if not better," Tim Clerc, manager of engineering, SEACOR Marine said. "We've been working with GE for over 10 years. GE's technology enables our mariners to move more freely and make decisions more quickly. At the same time, we get to benefit from improved energy efficiency with SeaStream DP."
The SeaStream DP system enhances situational awareness, rebalancing time and attention from system management to true seamanship. Its intuitive interface has been developed collaboratively by GE's DP specialists, together with GE's software center of excellence, and followed extensive consultation with users at all levels.
"The SeaStream DP system provides a familiar, reduced-stress working environment, enabling the operator to fulfill duties safely and efficiently," said Tim Schweikert, president & CEO, GE's Marine Solutions. "In parallel, we also upgraded our existing marine services training centers and established new ones at strategic locations close to users around the world. With the continuing efforts to advance manning and training capability, GE is always striving to support the development of the global shipbuilding industry for the tough offshore environment."
Source: GE