North Carolina Ports continues to welcome post-Panamax vessels to its Port of Wilmington, including the Evergreen Ever Laden which called on September 10, 2016. By capacity, approximately 8,500 TEUs, the Ever Laden is now the largest ship to call the Port of Wilmington.
"Our recently expanded capabilities and characteristics make us one of the most appealing ports in the U.S. Southeast," said Executive Director, Paul J. Cozza. "We continue to prove we are big ship ready and are excited that container carriers, like Evergreen, recognize the advantages North Carolina has to offer."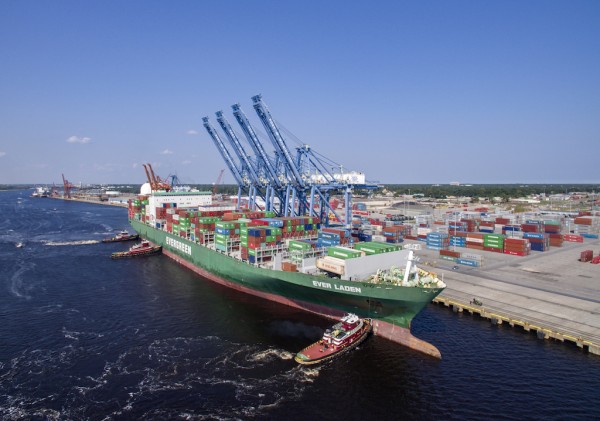 Evergreen Container ship Ever Laden at Port of Wilmington - Image courtesy: NCPorts
The Evergreen Ever Laden, which measures 1,099 feet in length (334.98 meters) and 150 feet in width (45.8 meters), is a part of the CKYHE Alliance's AW3 weekly service. The service connects Asia with the U.S. East Coast via the newly expanded Panama Canal.
This milestone visit follows the recent return of intermodal rail service to the North Carolina Ports and the completion of the turning basin at the Port of Wilmington. The turning basin project included the removal of an existing bulk pier and dredging along the port's side of the Cape Fear River to expand the turning basin from 1,200 feet to 1,400 feet. This expansion will typically accommodate vessels in the 8,000 to 10,000 TEU range, depending on the vessel's profile.
"We are aggressively working to grow our business through our container volumes," said Chief Commercial Officer, Greg Fennell. "Container carriers see that we offer a sizable savings opportunity and a vast market to support their growth."
Within 1,000 miles of North Carolina's borders are 170+ million U.S. and Canadian consumers, 65+ of the country's top 100 metropolitan areas and 60 percent of total U.S. retail sales.
With best-in-class efficiencies, North Carolina Ports is able to handle an influx in container volumes while completely avoiding congestion. With 45 net crane moves per hour in each of its post-Panamax cranes, coupled with average truck turn times of 18 minutes for a single move and 30 minutes for a dual move, the Port of Wilmington's high vessel and terminal productivity keeps vessels on schedule and reduces inventory and logistics costs.
North Carolina's Ports in Wilmington and Morehead City, plus inland terminals in Charlotte and in Greensboro, link the state's consumers, businesses and industry to world markets, and serve as magnets to attract new business and industry to the State of North Carolina. Port activities contribute statewide to 76,000 jobs and $700 million each year in state and local tax revenues.
Source: NCPorts