Just in time for the fall and the upcoming heating season, Dong Energy's Studstrup Power Station outside Aarhus, Denmark officially "reopened" 10 October after undergoing a green transition. The Power Station has been converted to run on sustainable wood pellets, so-called biomass, enabling green district heating for Aarhus residents, thus replacing coal as the main fuel at the plant.
Lauritzen Bulkers' contractual commitments with US based Enviva, the world's largest producer of wood pellets, ensures that significant volumes of biomass will go into the production facility at the Studstrup Power Station, making Lauritzen Bulkers an important player in the fast growing renewable energy business and thus enables Aarhus residents to enjoy eco-friendly district heating for the cold nights to come.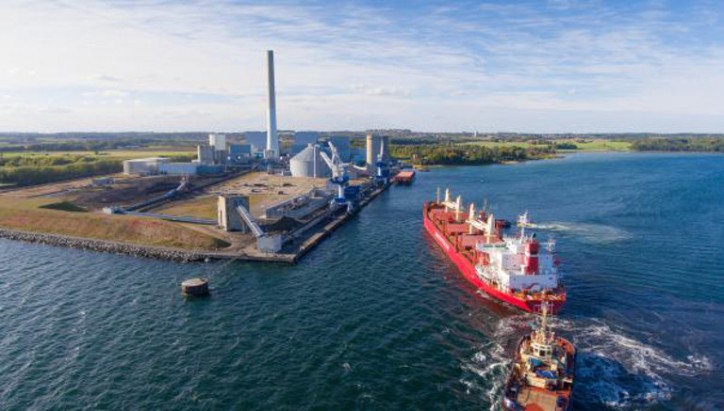 Hedvig Bulker sailing into the dock at Studstrup Power Station on 27 September 2016
A leading transporter of biomass
The global biomass demand is growing rapidly as consumers, businesses and regulators look for alternatives to fossil fuels. Globally, the wood pellet demand is projected to grow from 15 million tons in 2015 to more than 27 million tons by 2020 – a 16% annual growth rate.
Lauritzen Bulkers is to an increasing extent facilitating sea transportation of biomass from the US to Europe. A partnership with Green Circle Energy Inc., which in October 2014 was taken over by Enviva Biomass, dates back to 2009. Today, Lauritzen Bulkers has firm contractual commitments with Enviva through 2027 with options to increase the fast growing renewable energy business even further.
Visit to Studstrup Power Station
A delegation from J. Lauritzen, headed by J. Lauritzen's new CEO Mads Peter Zacho and Claus Stahl, Senior Vice President, Lauritzen Bulkers recently visited Studstrup Power Station, when the 31,872 dwt handysize bulk carrier Hedvig Bulker discharged its largest cargo of wood pellets to date at the Studstrup Power Station after an 18-day voyage from the Port of Panama City, Florida. Prior to the sea voyage, the wood pellets had been transported by train from Enviva's production facility in Cottondale, Florida. The cargo consisted of nearly 26,000 tons of wood pellets.
Present at the visit to Studstrup Power Station was also Barry Whelan, Director of Transportation from Enviva. Together with the delegation from J. Lauritzen he got a tour of the Hedvig Bulker and had the opportunity to see how wood pellets are discharged from the vessel.
"This shipment marks an important milestone in our partnership with Enviva and underlines our position as a key player in the development of the of the fast growing renewable energy sector" said Claus Stahl, Senior Vice President Lauitzen Bulkers.
Olympic stardust on board Hedvig Bulker
The crew and guests on board Hedvig Bulker got a glimpse of Olympic stardust, when the delegation was joined by Hedvig Lærke Berg Rasmussen – who the vessel was named after in 2011 at a naming ceremony in Hakodate, Japan. Hedvig Lærke won a bronze medal for Denmark together with Anne Dsane Andersen in women's pair rowing at the Olympic Games in Rio de Janeiro, Brazil this summer.
The Olympic bronze medalist, who is the daughter of Søren Rasmussen, Senior Manager Projects & Business Analysis in Lauritzen Kosan, received a warm welcome by the Filipino crew and the rowing star took her time to show the crew and guest on board Hedvig Bulker her medal and shared how she experienced the exciting final in Rio back in August.
"I am very excited to have the opportunity to see the vessel again and this time actually being able to go on board and I am honored and overwhelmed by the welcome I have received from the crew," said the Olympic rower.
The 22-year old Olympic star is not ready to hang up the oar and is already looking forward to the 2020 Tokyo Olympic Games.
The visit to Studstrup Power Station and Hedvig Bulker, was new CEO of J. Lauritzen, Mads Peter Zacho's first visit to a bulk carrier and he commented following the visit to Aarhus: "I am pleased to experience the professionalism and dedication by the crew onboard Hedvig Bulker. Transportation of renewable energy is becoming an important cargo for Lauritzen Bulkers and I very much enjoyed meeting representatives from Enviva as well as DONG Energy during our visit to Studstrup Power Station" and added "Meeting the godmother of the vessel – an Olympic bronze medalist – even more so made it an experience worth to remember."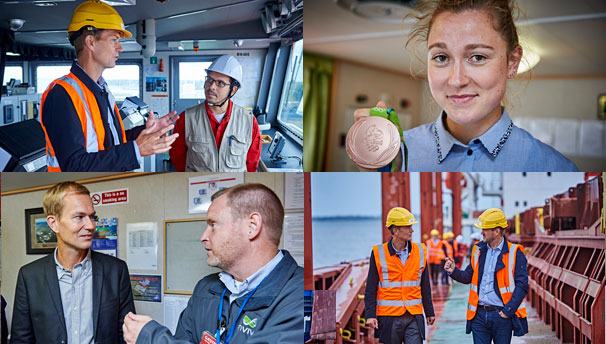 Photo upper left: Mads Peter Zacho, CEO at J. Lauritzen and Harry Sarantidis, Technical Manager, Lauritzen Bulkers; Photo upper right: Hedvig Lærke Berg Rasmussen; Photo bottom left: Mads Peter Zacho, CEO at J. Lauritzen and Barry Whelan, Director of Transportation, Enviva; Photo bottom right: Mads Peter Zacho, CEO at J. Lauritzen and Claus Stahl, Senior Vice President, Lauritzen Bulkers
Source: J Lauritzen