During the International Green Shipping Summit 2016, the port of Rotterdam was voted Greenest Port of the Year. This award is granted by the participants and is a testament to the efforts of everyone in the Rotterdam port community to make the port more sustainable.
The International Green Shipping Summit 2016 was held in Rotterdam on 17 and 18 October. More than 200 participants from the international shipping industry attended the event. Other nominees for the Greenest Port of the Year award were Antwerp, Amsterdam and Hamburg.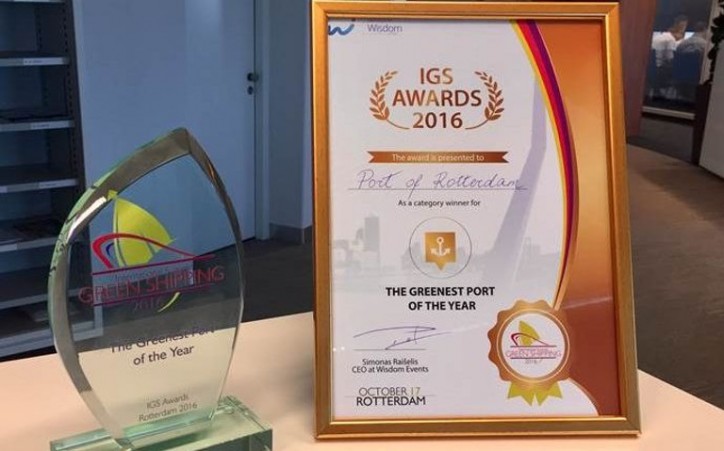 Energy transition is a priority in Rotterdam
The Port of Rotterdam Authority considers the transition from fossil to renewable energy one of the top priorities. The shipping industry plays a major role therein, including with the transition to cleaner fuels and more efficient propulsion and energy consumption. The shipping industry and the Port Authority are already working together in many aspects in order to achieve this.
The world's largest bio-based cluster
More in general, the port is currently still dominated by oil refining, petrochemical industry, storage and consumption of fossil fuels and the generation of energy using coal. This will shift in the coming decades. At the same time, the port of Rotterdam already has the world's largest bio-based cluster, with a number of companies dedicated to the production of bio-fuels and bio-based chemicals.
In an era of change, the existing should still be fully supported, since it is necessary to keep society going and to ensure businesses are able to make sufficient returns in order to invest in innovation and in new markets. Therefore, the existing traditional industries in the port of Rotterdam are supported while at the same time the Port is focused fully on new business, the promotion of bio-based activities and the support of all the possible ways of innovation.
Source: Port of Rotterdam