Incheon Port Authority (IPA), announced on October 27 that the total volume of container cargos transported via Incheon Port in the third quarter of this year recorded 670,000 TEUs, a 12.1 percent increase from 600,000 TEUs in the same period of last year. The cargo volume was the largest ever in a third quarter in the history of Incheon Port. The figure surpassed 600,000 TEUs for three years in a row after recording 600,000 TEUs in 2014. The cumulative cargo volume this year stood at 1.91 million TEUs.
According to the IPA, among the total container cargos in the third quarter, imported goods accounted for 51.7 percent with 348,528 TEUs, which increased by 37,630 TEUs (12.1 percent) compared to the same period a year earlier. Export cargos amounted to 319,908 TEUs, up 36,082 TEUs (12.7 percent) from a year ago. Volumes of transshipment and coastal transportation recorded 3,794 TEUs (△6.5 percent) and 2,280 TEUs (△20.1 percent) respectively.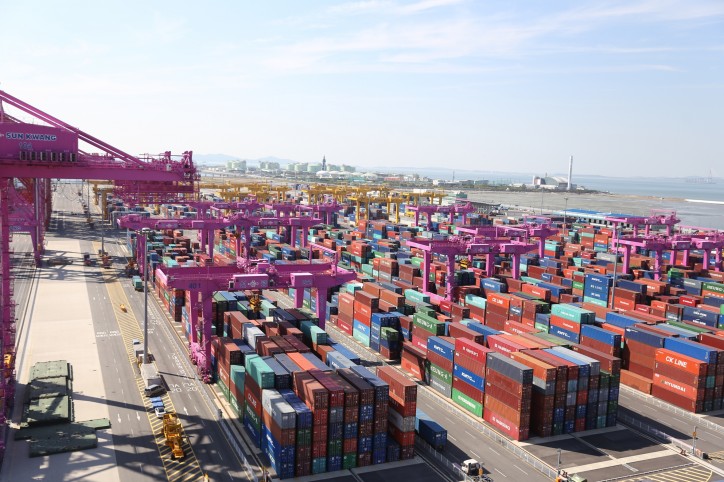 Incheon new port container yard - Image courtesy: IPA
By country, the container shipment related to China increased by 8.3 percent (392,951 TEUs), and that to Vietnam recorded 64,932 TEUs by increasing 33.3 percent (16,230 TEUs). Such shipment increases are likely to be a result of the volume rising due to the effect of the Korea-China FTA and Korea-Vietnam FTA that took effect last year.
In particular, the container shipment to Iran is continuously increasing from 1,354 TEUs in July, 2,297 TEUs in August and 2,414 TEUs in September due to a regular container service connecting Incheon Port to the Middle East, which was launched in June.
By region, the shipment related to the Far East Asian region including China reached 483,639 TEUs by increasing 10.2 percent (44,887 TEUs) from a year ago. The cargos exported to or imported from Southeast Asia amounted to 131,265 TEUs, an increase of 16.3 percent (18,440 TEUs). On the other hand, the shipment related to Europe dropped to 7,933 TEUs, down 28.2 percent (3,121 TEU) due to the rapid decrease in timber imports from Romania.
The shipments of 13 out of 32 items grew including textile fabric and its products, general merchandise and car and its components.
Meanwhile, the bulk cargo volume transported during the same period this year recorded 27 million tons, 9 percent decrease from a year earlier.
The import cargos showed a 10.4 percent decrease to 15.84 million tons, accounting for 58.7 percent of the total bulk cargo volume. The volume of the export cargos dropped by 15.5 percent to 2.5 million tons, accounting for 9.3 percent of the total. The coastal transported cargos accounted for 32 percent, down 4 percent from a year ago.
The shipments of LNG gas decreased by 960,000 tons, accounting for 18 percent of the total cargo volume, due to the drop in supply due to the regulation of supply and demand. Moreover, those of oil refining products dropped by 1.12 million tons, accounting for 12 percent of the total, owing to the decrease in imports from the Middle East and exports to China and Japan.
Source: IPA