Bidders for Hanjin Shipping Co.'s Asia-U.S. route up for sale will start a due diligence process this week, with the asset sale by the country's ailing shipper expected to be completed by next month, industry sources said Monday.
Last week, Hyundai Merchant Marine Co., the Korea Shipping Association, Korea Line Corp., local private equity fund Hahn & Co. and an unidentified investor submitted their preliminary bids for Hanjin Shipping's lucrative asset.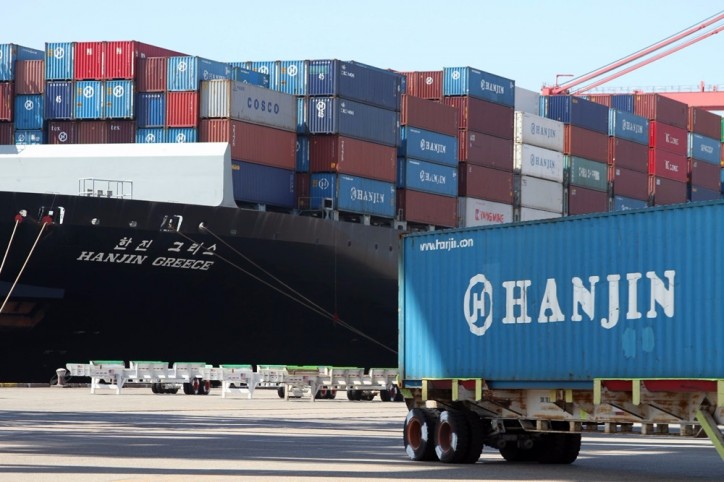 The asset sale includes vessels that operate on its Asia-U.S. route. Final bids are due by Nov. 7.
Hanjin Shipping, currently under court receivership, is seeking to sell its assets in an effort to survive an industry wide slump and cash shortage.
Earlier Hanjin Shipping said it is working to wind down its European operations, raising speculation that the country's No. 1 shipper is preparing for liquidation.
The shipper also said it would sell its stake in a U.S. affiliate that operates a terminal in the Port of Long Beach, California, as part of efforts to raise the cash needed to stay afloat.
Hanjin Shipping was put under court receivership early last month as its creditors, led by the state-run Korea Development Bank, rejected its last self-rescue package worth 500 billion won (US$440 million), which fell short of the 700 billion won demanded.
Hanjin Shipping badly needs cash to repay debts and meet unpaid service bills. At the end of June, its debt reached 6 trillion won.
The Company and local shippers have been under financial strain due to falling freight rates stemming from ship oversupply and a protracted slump in the global economy.
Source: Yonhap