Mid-sized shipping line Korea Line Corp. has been chosen as the preferred bidder for Hanjin Shipping Co.'s Asia-U.S. route, beating its bigger rival Hyundai Merchant Marine Co., with the asset sale by the country's ailing shipper expected to be completed this month, a local court said Monday.
Last week, Hyundai Merchant Marine and Korea Line Corp., the country's No. 1 bulk carrier, submitted their final bids for Hanjin Shipping's lucrative asset.
Korea Line is affiliated with SM Group after being taken over by the second-tier business group in 2013. SM Group's business portfolio ranges from construction to chemicals.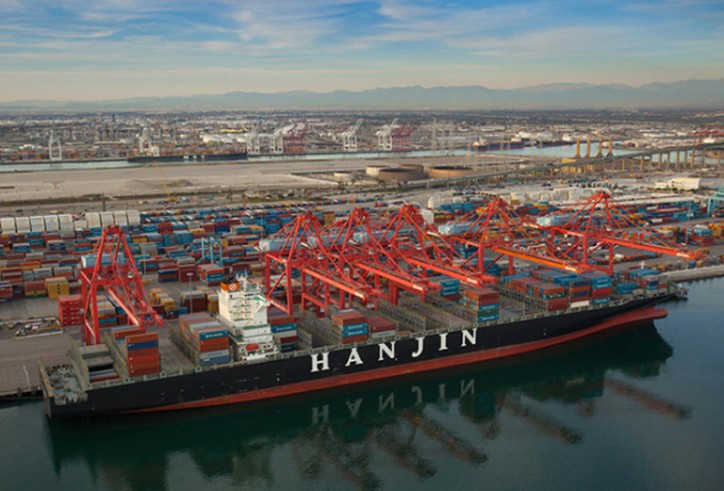 The U.S.-Asia route, its related workforce and seven overseas operations up for sale could fetch up to 100 billion won (US$85.4 million), the sources said.
The Seoul Central District Court said the final deal will be signed on Nov. 21, and in addition to the U.S.-Asia route, Korea Line has made a bid for Hanjin's stake in the Port of Long Beach, California.
Hanjin Shipping owns a 54 percent stake in Total Terminals International (TTI), which operates two facilities in Long Beach and Seattle, and handles some 30 percent of cargo along the U.S. West Coast.
Hanjin Shipping's Asia-U.S. route logs sales of up to 4 trillion won annually, and its market share stands at 7 percent, the sixth-largest among global shippers.
The court said Korea Line has expressed its intention to offer job security for some 700 land and sea-based employees working for Hanjin Shipping.
Hanjin Shipping, currently under court receivership, is seeking to sell its assets in an effort to survive an industry wide slump and cash shortage.
Hanjin Shipping was put under court receivership in September as its creditors, led by the state-run Korea Development Bank, rejected its last self-rescue package worth 500 billion won, which fell short of the 700 billion won demanded.
Hanjin Shipping badly needs cash to repay debts and meet unpaid service bills. At the end of June, its debt reached 6 trillion won.
Hanjin Shipping and local shippers have been under financial strain due to falling freight rates stemming from an oversupply of ships and a protracted slump in the global economy.
Hanjin Shipping's receivership sent ripples through the global shipping network. Earlier, the government said Hyundai Merchant would consider taking over Hanjin Shipping's healthy assets, such as port terminals and global business networks.
Meanwhile, the shipper suffered a net loss of 2.92 trillion won during the third quarter, shifting from a net profit of 61.2 billion won a year earlier.
The shipper also logged an operating loss of 309 billion won in the third quarter, widening from an operating loss of 18.7 billion won a year earlier.
Third-quarter sales reached 1.05 trillion won, sharply down from 1.93 trillion won over the cited period.
Source: Yonhap