South Korea's Hyundai Merchant Marine Co. (HMM) is making last-minute pitch to get on the world's largest shipping alliance 2M in order to act as the sea flag carrier on behalf of bankrupt Hanjin Shipping after its face-losing defeat to a smaller competitor in buying out U.S.-Asia sea operations of Hanjin.
After Hanjin Shipping went under court receivership, Hyundai Merchant Marine has been fielded by the Korean government to take the place of the country's largest container liner. But the shipper which went under state-led creditor control through debt-to-equity swap bailout lost to Samra Midus Group which owns bulk carrier Korea Line Corp. in the auction offering the lucrative Asia-U.S. operation of Hanjin Shipping.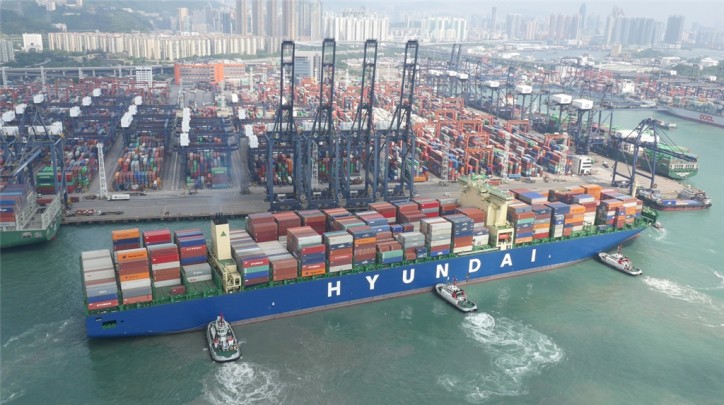 Image courtesy of HMM
Hyundai Merchant Marine posted operating losses of 230.3 billion won ($195.8 million) on a consolidated basis for the third quarter ended September 30, raising concerns for liquidity and sustainability despite the bailout.
Hyundai Merchant Marine desperately needs to join the world's largest shipping community 2M that boasts 28 percent share in global shipping market to save freight and port service costs. The container carrier aims to complete its negotiation with the 2M alliance by the end of this month, but is yet to narrow the difference over capacity issue. The 2M will start the new shipping network in April next year and the Korea cargo carrier needs to reach an agreement within the month to ready necessary communication networks before the shipping club officially takes off.
For an ocean-going industry, it is almost crucial to be a part of a global shipping alliance that helps a cargo carrier to save costs and boost competitiveness by sharing ships and networks with other member shippers. Hyundai Merchant Marine reportedly is in talks with the 2M alliance to secure between 30,000 and 40,000 twenty-foot equivalent units (TEUs) in container capacity on the shipping group's Asia-U.S. shipping route but the 2M wants to reserve just 20,000 TEUs for the Korean shipper on the route.
The 2M alliance is said to be inviting in Hyundai Merchant Marine onboard on the condition the Korean shipper does not increase the cargo capacity from agreed volume, said a shipping industry official who asked to be unnamed.
But Hyundai Merchant Marine inevitably needs to up its capacity to 610,000 TEUs to handle the volume of Hanjin before it went under.
Hyundai Merchant Marine is the 13th in global shipping industry based on container capacity of 450,000 TEUs.
Source: Pulse News