On 23 November 2016, Sovcomflot and Sberbank signed a memorandum of understanding (MOU) paving the way for a new USD 180 million long-term credit agreement with a term of up to 15 years. On behalf of the parties the MOU was signed by Sergey Frank, Chairman and CEO of Sovcomflot, and Herman Gref, CEO and Chairman of the Executive Board of Sberbank.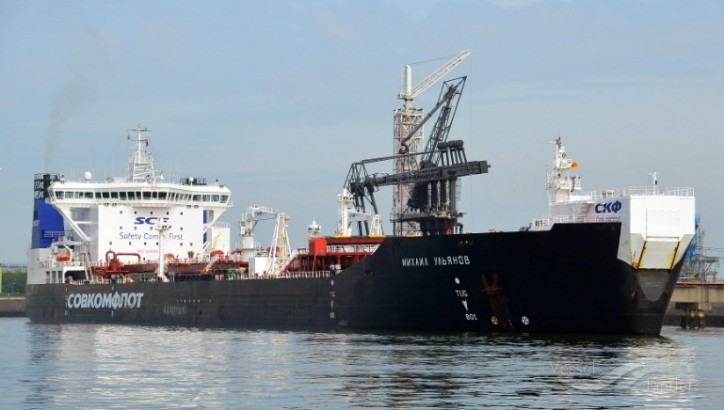 Crude Oil Tanker Mikhail Ulyanov - Image courtesy: Arjan Elmendorp
The credit facility agreement, the subject of the MOU, will finance two Panamax Arctic shuttle tankers within Sovcomflot's fleet (Mikhail Ulyanov, Kirill Lavrov), built at the Admiralty Shipyards in St. Petersburg and operated under the Prirazlomnoye project.
"The memorandum signed by Sovcomflot and Sberbank is a logical continuation of the successful cooperation between us, both companies being leaders in their respective fields. In 2015, Sberbank became the first Russian bank to provide shipping finance for Sovcomflot's tankers. Today, Sovcomflot and Sberbank are taking another step forward and declaring their readiness to implement new large-scale projects with high added value," said Sergey Frank, Chairman and CEO of Sovcomflot.

"Investment in large-scale projects involving the creation of a modern infrastructure and the development of industrial potential of the country is traditionally one of Sberbank's priorities. We are looking forward to continuing cooperation with reputable customers that are building a stable business, such as Sovcomflot," said Herman Gref, President and Chairman of Sberbank.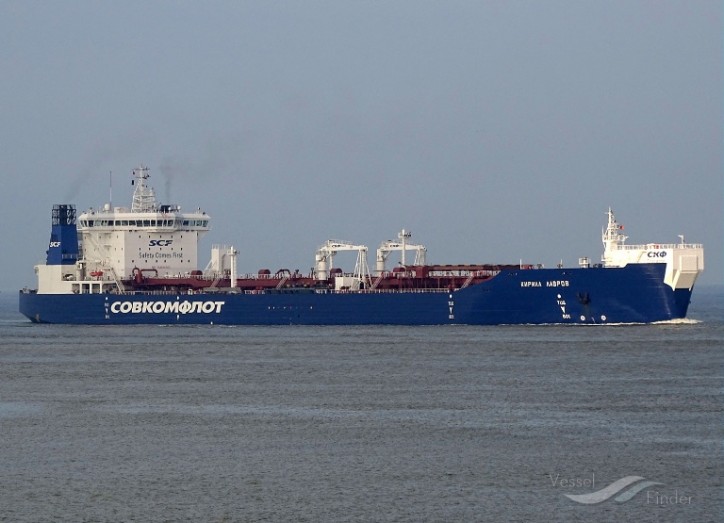 Crude Oil Tanker Kirill Lavrov - Image courtesy: Gyssels Gilbert
The Prirazlomnoye oilfield is located 32 nautical miles offshore in the Pechora Sea. The offshore ice-resistant stationary platform (OIRSP) Prirazlomnaya was built in Russia for the purpose of oil production, storage and offloading there. It is the first and only platform on Russia's Arctic shelf. Two unique shuttle tankers – Kirill Lavrov and Mikhail Ulyanov – are used for transportation of all the oil produced there.
Built in 2010 at the Admiralty Shipyards for Sovcomflot, these vessels were specifically designed for year-round navigation at low temperatures and in the difficult ice conditions of the Arctic sea basin. Each vessel has Arc6 ice class and a deadweight of 70,000 tonnes. Since April 2014, they have made 43 voyages from Prirazlomnaya, delivering some 2.7 million tonnes of crude oil for customers. Gazprom Neft Shelf is the operator of the Prirazlomnoye project.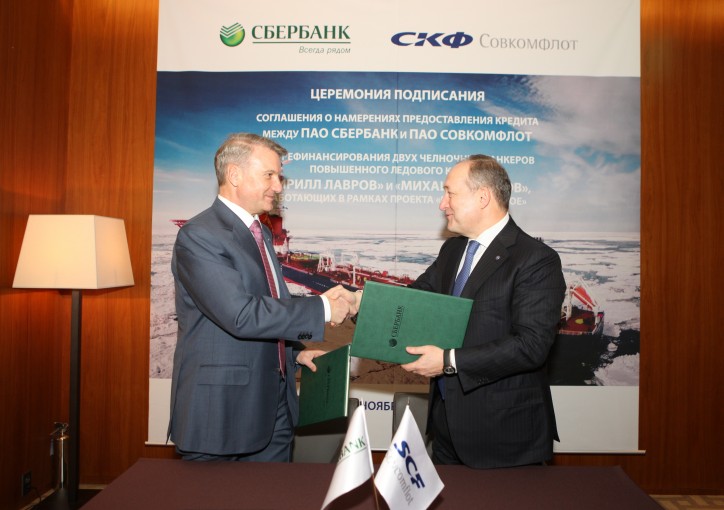 Source: Sovcomflot