On 29 November 2015 at about 7.50 pm, the Indonesian registered, Batamfast passenger ferry MV Sea Prince, while enroute from Nongsapura Ferry Terminal, Batam, to Tanah Merah Ferry Terminal, Singapore, was immobilised at about 0.24 nautical miles (444 metres), northwest of Nongsa.
Investigation revealed that the Master of Sea Prince had deviated from his original planned route after leaving the demarcated navigational channel and went aground. Due to the grounding, Sea Prince sustained damages that immobilised the engines and resulted in flooding of the steering gear room.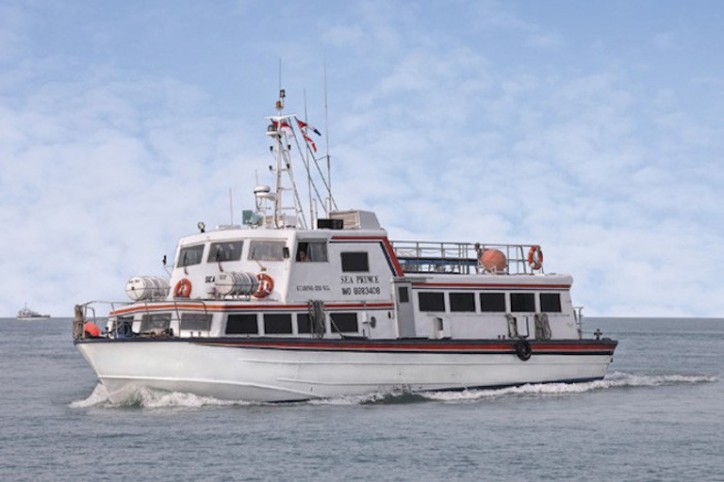 Image courtesy: Batamfast

Two inflatable life rafts were launched for evacuation of passengers but the first life raft deflated slowly while the second life raft began to take in water.
All passengers safely returned to Singapore at about 11.50 pm. There was no serious injury or pollution reported as a result of the incident.
Investigation into the incident revealed:
The primary causal factor[1] was due to the Master, without tenable and valid safety reason altered the heading of Sea Prince towards Singapore prematurely (taking a shorter route) and not following the approved passage plan.
The failure of both life rafts, in particular, the second life raft was due to broken rubberised compound connecting the one-way safety valve tube to the buoyancy unit. These life rafts were last inspected by a liferaft service station in Batam and was not carried out in accordance with the recommendations in IMO Resolution A.761 (18) – servicing intervals for a 20-year old life raft.
Improving passenger ferry safety

Following the incident, MPA has issued Batamfast Private Limited a warning advisory to improve its Safety Management System and has not allowed the Master to operate on regional ferries.

MPA also took immediate actions to enhance the safety standards of regional ferries. Inspections on all regional ferries have been stepped up. These include conducting more spot checks when the ferries are at the ferry terminals especially during peak periods[2] and more detailed inspections on Singapore-registered ferries in between their annual surveys for the renewal of Passenger Ship Safety Certificates.

These inspections are aimed at raising the safety standards of regional ferries to prevent accidents such as collision, grounding or shipboard fire; enhance the safety awareness and emergency preparedness of the crew; and assess the level of compliance of the ferries with mandatory requirements and safe practices as well as provide recommendations to further improve the ferry safety standards.

To increase the safety standards of ferry operators, MPA conducted regular safety briefings and has formed a safety working group with the Association of Regional Ferry Operators.
MPA has also met up with the Batam Authorities to strengthen our standard operating procedures. MPA will continue to work with the Indonesian and other regional authorities to further strengthen safety best practices for regional passenger ferries through the Community of Practice, and explore the possibility of holding joint exercises to enhance response coordination.
Moving forward, MPA will be making it mandatory for Singapore ferries to have their life rafts serviced by MPA-approved or recognised liferaft service stations and imposing age limit on life rafts for Singapore and Indonesia ferries operating in our waters.
Annex A – Location of incident
Annex B – Conditions of Life raft (A) and (B)
[1] Primary causal factor means the definitive factor which led to the occurrence i.e. the last factor that made the incident inevitable.
[2] Peak period refers to festive seasons, public and school holidays, weekends and during Kusu pilgrimage.
Related news: Ferry SEA PRINCE damaged in collision, 97 passengers evacuated
Source: MPA