Some years ago, the general feeling was that ro-ro shipping was losing ground and more and more freight would be transported in containers. But the future for wheeled cargo at sea now looks brighter than it has done for long time. Volumes are on the increase and the next generation of ro-ro vessels are due to come into service.
Ro-ro stands for roll on-roll off, which means that the load units are wheeled on board vessels that operate in regular liner traffic, mainly in Europe. Just a few years ago, the general assessment was volumes in this segment would fall dramatically in favour of containers.
"During the past ten years, the ro-ro fleet has fallen by around 12 per cent in terms of load capacity, matched by a doubling of the container fleet. The shipping companies have stuck with their old vessels, which are not particularly efficient in terms of energy use per transported unit. Before the fall in oil prices, it was difficult to get the equation to balance," explained Christhopher Pålsson at the maritime business information company Lloyd's List Intelligence Consultancy.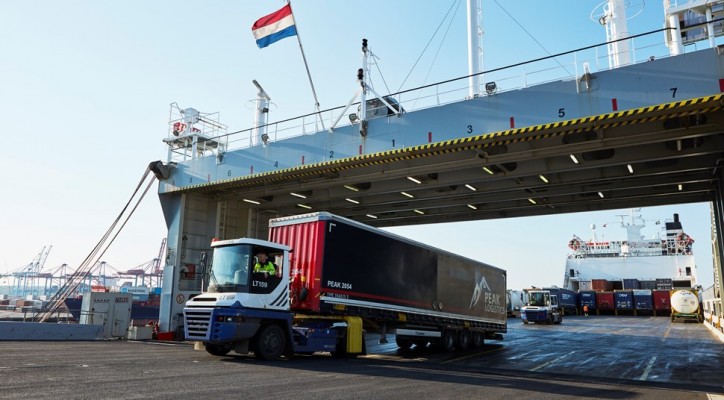 Larger and greener vessels
But the situation seems to have definitely turned around. More ro-ro companies, including CLdN, Stena Line and DFDS, are placing orders for new, larger vessels. DFDS vessels will be 40 per cent larger than the present vessels and will be able to carry up to 450 trailers.
The feeling is that the general fall in load capacity in this segment over the past 10 years will level out and that volumes will begin to rise from 2018.
As expected, the larger vessels are more cost effective and better for the environment as they can carry more freight. Vessels will also be more fuel efficient as they are built using new technology. Certain vessels will be equipped with scrubbers, an exhaust gas cleaning system that reduces emissions of environmentally hazardous substances.
How big can ro-ro vessels become?
"There really is no limit to how big vessels can be built, but if they are to be able to put into several ports in Europe there are limitations on the beam, length and draught. The main point about ro-ro traffic is that it should be possible for the vessels to be loaded and unloaded quickly, which means that they cannot be too big," concluded Christopher Pålsson.
Fact file: Ro-ro traffic
Ro-ro stands for roll on-roll off and refers to trailers and other wheeled cargo carried on ships that operate in regular liner traffic. Ro-ro is mainly a European phenomenon. Traffic frequency is high with regular departures. At the Port of Gothenburg, development of ro-ro traffic really took off in the 1970s. Since then, Swedish import and export companies have been able to reach a large number of European ports using ro-ro services from Gothenburg.
Source: Port of Gothenburg