After a little over 2 years of deepening and widening the Bayport Channel, the Port Houston dredging is finished. The channel was deepened by five feet to match the 45 ft. depth of the Houston Ship Channel and was also widened between 50 to 100 feet. The project will improve navigational safety and enable the large class of post-Panamax vessels to call at the Bayport Container Terminal.
Orion Construction, L.P., the contractor, used three cutter suction dredges, Waymon Boyd, John LaQuay and Linda LaQuay, to perform the new work and maintenance dredging.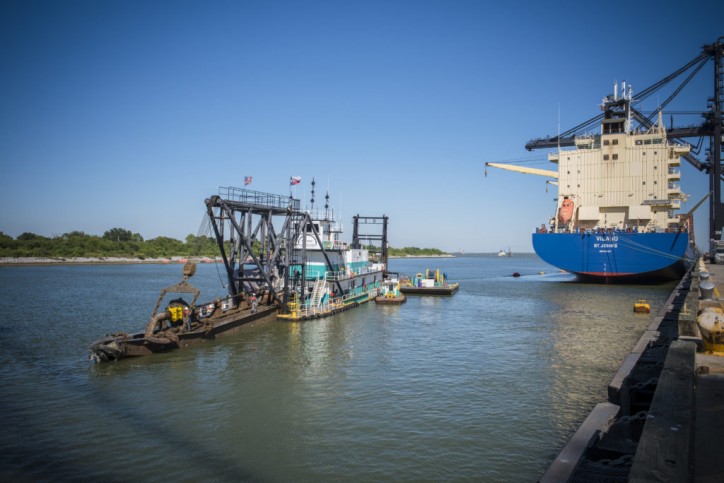 Image courtesy: Port Houston
"The federal processes for approval, budgeting and construction by the Corps of Engineers to accomplish this project would have taken about 13 years start to finish. With our efforts and funding, we accomplished the same goal in a little over six years," said Project Manager David Casebeer, who noted the total cost for permitting, design and construction was done for approximately $85 million. The Barbours Cut channel was completed in 2015.
The project's design included beneficially using the stiff clays dredged from the Bayport Channel to increase dredged material storage capacity at Placement Area 15 by raising the containment dikes by five feet. "As environmental stewards, we are always evaluating alternative ways to use available resources to effectively restore and maintain our waterway and the surrounding aquatic habitat," added Casebeer.
Ongoing investment in the improvement of the Houston Ship Channel is critical to ensure that the Houston port region continues to capture its share of economic prosperity delivered because of maritime commerce. The channel is critical to the nation's energy security as Houston is home to the second largest petrochemical complex in the world.
Source: Bayport