Berge Rishiri is the latest handy-size vessel to be added to the Berge Bulk fleet. She was delivered on 16th January 2017 at 0720 hours (local Singapore time). Sailing under the flag of the Isle of Man, she commences her maiden voyage to the Port of Longview in Washington State (USA), where she will be loaded for a log shipment before heading to China for discharge.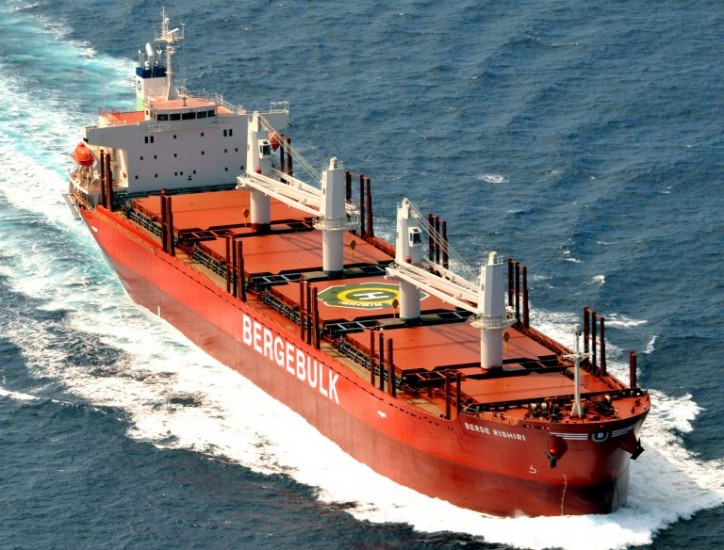 Bulk carrier Berge Rishiri - Image courtesy: Berge Bulk
Like her sister vessel, Berge Shari, she is equipped with the Propeller Boss Cap Fins (PBCF). PBCF is an energy saving device attached to the propeller of the vessel to improve its efficiency. This device, now fitted on many ships in Berge Bulk fleet, enables higher fuel savings. The technology used in her main engine electronically controls fuel injection and the exhaust valve drive, which auto-tunes and ensures more efficient operation during slow-steaming.
Over the last couple of years, Berge Bulk expanded into the handy-size market and welcomed its first handy vessels– Berge Hakodate – in 2015. Berge Rishiri is the sixth and last in the series to be delivered. Along with her sister vessels, she was built in the Namura Shipyard in Hokkaido, the very same shipyard where the legendary founder of World Wide Shipping, Sir Y.K. Pao, built his first ship in 1962 – the 'Eastern Sakura'.
Berge Rishiri was named after Mount Rishiri – a spear-like volcanic peak towering off the coast of Northern Hokkaido, Japan. The mountain is also known as the 'Rishiri Fuji', because its shape resembles the perfect cones of the majestic Mount Fuji. It is also one of the few mountains in the world that offers unobstructed, 360 degree panoramic view of the oceans.
Source: Berge Bulk