Yesterday (Jan17), Canada's largest, highest capacity and most experienced shipyard - Davie - announced the signing of a new $14m contract for the upgrade and refit of Canada's heaviest icebreaker – CCGS Louis St Laurent. This new program will mark the return of the CCGS Louis St Laurent to Davie in February 2017.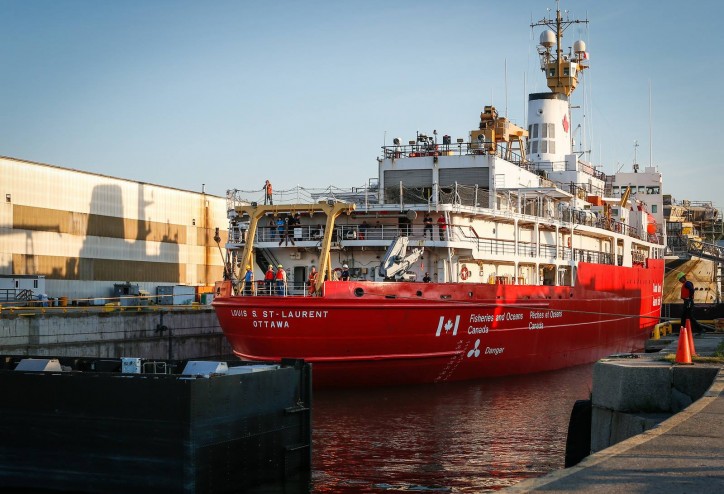 CCGS Louis St Laurent - Image courtesy: Davie
This contract represents the fifth Canadian Coast Guard refit and upgrade program for Davie since the shipyard was restarted under new ownership and a new management in 2012.
Jared Newcombe, CEO of Davie commented, "We thank the Government of Canada for once again placing their trust in us to deliver on these mission-critical works for the Canadian Coast Guard. Working together with the Canadian Coast Guard on the existing fleet has allowed us to fully understand their needs for the future fleet. This has positioned us perfectly in the government's current solicitation for its interim icebreakers and for future coast guard newbuild programs."

Laurie LeRue, the Chief Operating Officer of Davie added, "A key tenet of the National Shipbuilding Strategy is that all ship repair and maintenance work is to be competitively tendered. LeRue, who was previously the Program Director for the FELEX program for six years went on to add that, "Davie has invested heavily to position itself as Canada's centre-of-excellence for the repair and maintenance of the federal fleet. The work we have been doing for the Canadian Coast Guard as well as work on the Resolve-Class AOR has honed our skills and readied the organization for the large repair and maintenance programs currently being solicited for the Royal Canadian Navy. As builders of the Canadian Patrol Frigates and having performed numerous docking work periods for this vessel class in the past, Davie is particularly interested to now work with the government in their future upkeep."
Source: Davie