Huntington Ingalls Industries' (NYSE:HII) Ingalls Shipbuilding division officially started fabrication of the Arleigh Burke-class (DDG 51) destroyer Lenah H. Sutcliffe Higbee (DDG 123) on Wednesday. The start of fabrication signifies that the first 100 tons of steel have been cut.
"Starting fabrication on another destroyer is a great way to start the year," Ingalls Shipbuilding President Brian Cuccias said. "Ingalls has delivered 29 of these ships to the U.S. Navy, and our hot production line continues to improve the construction process. The ships are tremendous assets to our country's fleet, and we look forward to delivering another quality destroyer to the Navy."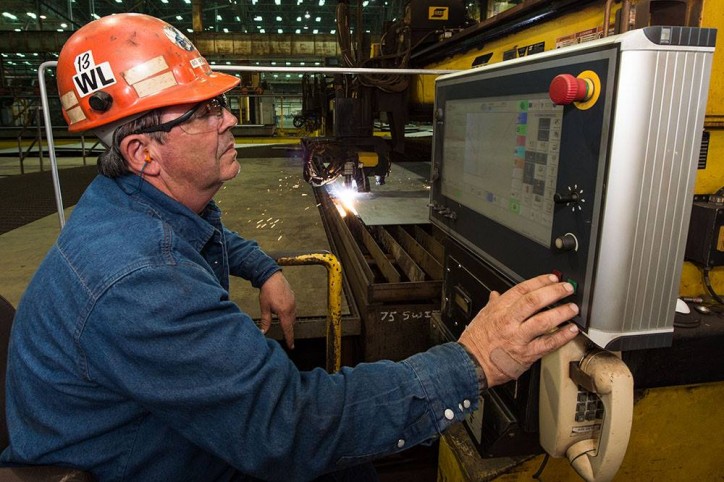 Paul Bosarge, a steel fabrication burner at Ingalls Shipbuilding, presses the button to start fabrication of the Ingalls-built destroyer Lenah H. Sutcliffe Higbee (DDG 123). Bosarge has worked at Ingalls for 39 years. Photo by Lance Davis/HII
The ship is named in honor of Lenah H. Sutcliffe Higbee, the first woman to receive the Navy Cross. Higbee joined the U.S. Navy in October 1908 as part of the newly established Navy Nurse Corps, a group of women who would become known as "The Sacred Twenty," and became the second superintendent of the Navy Nurse Corps in January 1911.
Lenah H. Sutcliffe Higbee is the fourth of five Arleigh Burke-class destroyers HII was awarded in June 2013. The five-ship contract, part of a multi-year procurement in the DDG 51 program, allows Ingalls to build ships more efficiently by buying bulk material and moving the skilled workforce from ship to ship.
With the start of Lenah H. Sutcliffe Higbee, Ingalls has five destroyers under construction. Ralph Johnson (DDG 114) will undergo sea trials later this year and is scheduled to be delivered by the end of the year. Paul Ignatius (DDG 117) will be christened on April 8. Delbert D. Black (DDG 119) will launch later this year, and Frank E. Petersen Jr. (DDG 121) will lay its keel in the first quarter of this year.
Huntington Ingalls Industries is America's largest military shipbuilding company and a provider of professional services to partners in government and industry. For more than a century, HII's Newport News and Ingalls shipbuilding divisions in Virginia and Mississippi have built more ships in more ship classes than any other U.S. naval shipbuilder. HII's Technical Solutions division provides a wide range of professional services through its Fleet Support, Integrated Missions Solutions, Nuclear and Environmental, and Oil and Gas groups. Headquartered in Newport News, Virginia, HII employs nearly 37,000 people operating both domestically and internationally.
Source: Huntington Ingalls