Pacific International Lines (PIL) announced on Jan 26 the revamp of its China Transpacific trade lines commencing on 3rd April 2017. There will be two new weekly services branded as ACS and AC5, operating in a joint cooperation under a new vessel sharing agreement.
The two new weekly services will each cover Central and South China to USWC in 42 round voyage days with 12 vessels of 6,500 to 10,000 TEUs. With this enhancement, PIL will ensure competitive coverage and transit time for its customers.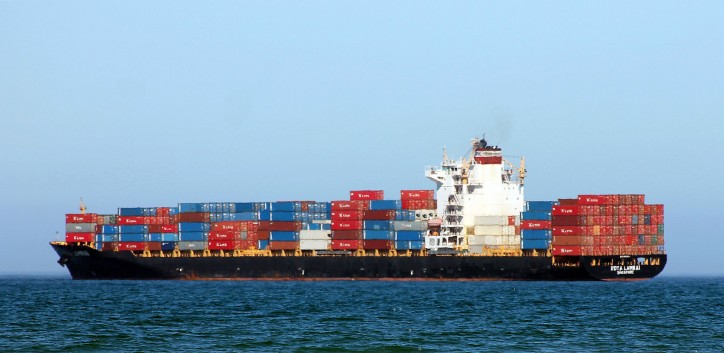 The container ship Kota Lambai, one of Pacific International Lines' ships, near Cape Town, South Africa - Image: Ian Barbour
Details of the new services are as follows:
ACS
Port Rotation : Qingdao – Shanghai – Ningbo – Los Angeles – Oakland – Qingdao
Commencement date : 3rd of April ETA Qingdao
AC5
Port Rotation : Xiamen – Nansha – Hong Kong – Yantian – Long Beach – Oakland –Xiamen
Commencement date : 4th of April ETA Xiamen
These 2 services are further complemented by 3 other Transpacific loops made available on slot exchange arrangement, providing improved frequency and overall coverage.
AC2
Port Rotation : Lianyungang – Shanghai – Ningbo – Long Beach – Seattle –Lianyungang
AC3
Port Rotation : Xingang– Qingdao – Shanghai – Long Beach – Oakland – Xingang
AC6
Port Rotation : Fuzhou – Nansha – Hong Kong – Yantian – Xiamen – Los Angeles/Long Beach – Oakland – Fuzhou
PIL owns and operates a fleet of 155 vessels, comprising 136 container ships with capacity of 361,000 TEUs, and 19 bulk carriers / multi-purpose vessels totaling 1.3 million DWT.
PIL is ranked 14th amongst the top container ship operators in the world, with a service coverage of the whole of Far East Region to Africa, Red Sea, Middle East, North and South America, Europe, Indian sub-continent and Oceania. It also has a dedicated network of feeder services covering a comprehensive range of ports in South-East Asia, the Bay of Bengal, the East Coast of India, East and West Africa, the Federated States of Micronesia, the Mariana Islands and the Pacific Islands. In addition to the Container Service, PIL also offers a direct link for project and break bulk shipment through its Multi-Purpose Service between the Far East and Africa, Red Sea and India Sub-continent.
Source: PIL