VARD has signed a contract for the construction of one pelagic trawler for Research Fishing Company, based on Shetland. The contract value is approximately NOK 350 million.
In close cooperation with the ship owner, the trawler is designed by Skipsteknisk in Ålesund, Norway. It will also be built, equipped and completed in Norway. Delivery is scheduled from Vard Langsten in 3Q 2018.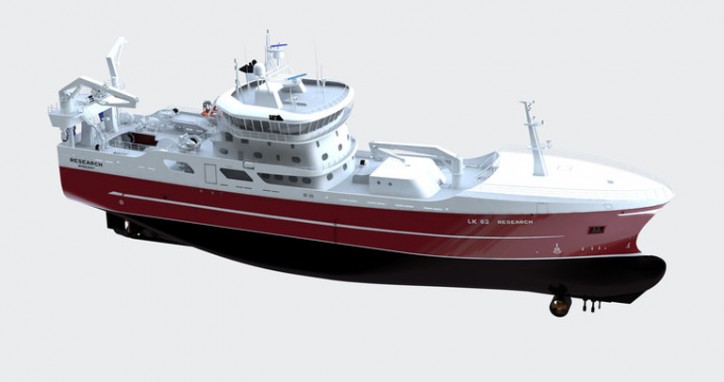 The Pelagic trawler designed by Skipsteknisk, scheduled for delivery in 3Q 2018 from Vard Langsten - Image courtesy of Skipsteknisk
The vessel with a length of 80 meter will be a modern pelagic trawler with the latest technology onboard. It will be equipped with entirely electrically powered winches to reduce oil spills and pollutions, and will have the world's first electrically operated fish pump onboard. Other features are a main engine based on common rail technology, and a cooling system and pumping systems arranged for rapid, efficient and smooth handling of fish to ensure premium product quality.
The trawler will also be equipped with VARD's SeaQ Bridge, an integrated bridge solution including monitoring, alarm and automation systems designed with the operator in mind and organized to achieve a clean and efficient workspace with focus on ease of operation, safety and ergonomics. The bridge is designed with large seamless multifunctional displays. The SeaQ Bridge solution is developed by Vard Electro in Norway.
CEO and Executive Director Mr. Roy Reite commented, "I am pleased to welcome Research Fishing Company's team and crew to VARD. Our history started with small family-owned shipyards, building fishing boats for ship owners around the edge of the North Sea. This heritage has been passed down through generations, and we are proud to be the trusted partner in the new fleet investment on Shetland."
Research Fishing Company Ltd is a family-owned enterprise located in Lerwick on the Shetland Islands.
Source: VARD