Subsea 7 S.A. (Oslo Børs: SUBC, ADR: SUBCY) Monday announced the acquisition, from K&S Baltic Offshore (Cyprus) Limited, of its 50% shareholding in Seaway Heavy Lifting Holding Limited (Seaway Heavy Lifting).
Following signing and completion, after close of business on 10 March 2017, Seaway Heavy Lifting and its subsidiaries became wholly-owned by Subsea 7 (the Group).
Jean Cahuzac, CEO, said: "Our investment to acquire the remaining shares in Seaway Heavy Lifting, such that it becomes a wholly-owned subsidiary of our Group, is aligned with our strategy to grow and strengthen our business for the long-term. Consolidating Seaway Heavy Lifting into the Group increases our participation in Renewables, Heavy Lifting and Decommissioning services. These are areas where we expect market activity to increase and see potential to grow our market share."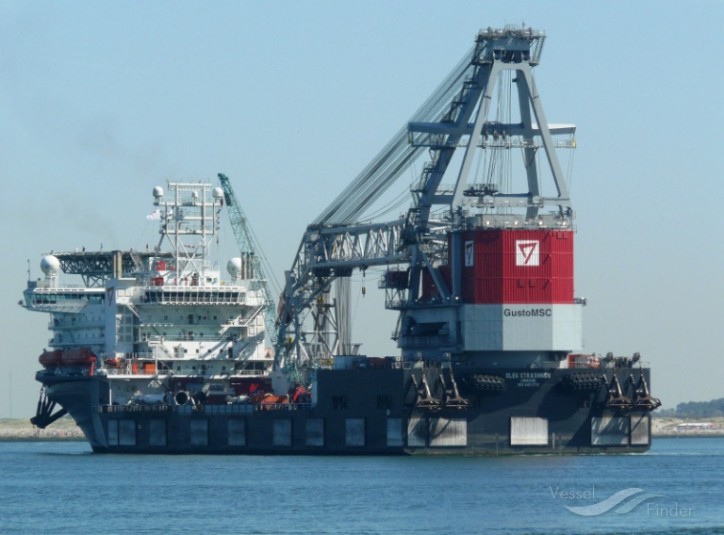 Crane Ship Oleg Strashnov - Image courtesy of Roeland.J
The Group will report revenues and net operating income from Seaway Heavy Lifting within a new Business Unit 'Renewables and Heavy Lifting'.
This new reporting structure will be reflected within the Group's first quarter results, which will be announced on 27 April 2017.
Additional Information:
1. Seaway Heavy Lifting is a specialist offshore contractor and operates two world-class heavy lift vessels. It employs 550 people and is headquartered in the Netherlands.
2. The Board of Directors of Seaway Heavy Lifting comprises Nathalie Louys, Agapios Agapiou and Chris Georghiades, and its senior management team includes Jan Willem van der Graaf as Chief Executive Officer, Arjan van der Laan as Chief Financial Officer and Peter de Bree as Chief Operating Officer.
3. Prior to the acquisition, Seaway Heavy Lifting was a joint venture company in which the Group held a 50% interest. As a result of the acquisition, Seaway Heavy Lifting has become a wholly-owned subsidiary of the Group.
4. The Group paid cash consideration of USD 279 million on completion and an additional consideration of up to USD 40 million will be paid in 2021 on the condition that certain performance targets are met.
5. As at 31 December 2016 the consolidated balance sheet of Seaway Heavy Lifting reflected net assets of USD 392 million, including net cash of USD 62 million.
6. As at 31 December 2016 Seaway Heavy Lifting had $284 million of order backlog, excluding $1.1 billion relating to the Beatrice offshore wind farm project, which is already included in the reported order backlog of the Group.
Source: Subsea 7