Cammell Laird says it plans to unleash an 'aggressive exports drive' in 2017 after one of its busiest years for commercial marine work, which saw it land the biggest shipbuilding project in the UK for a generation.
Cammell Laird CEO John Syvret said the winning of the £150mln contract to build the Sir David Attenborough polar research vessel for the UK Government 'threw open' a new global market to build a range of high-value polar vessels from research to cruise ships.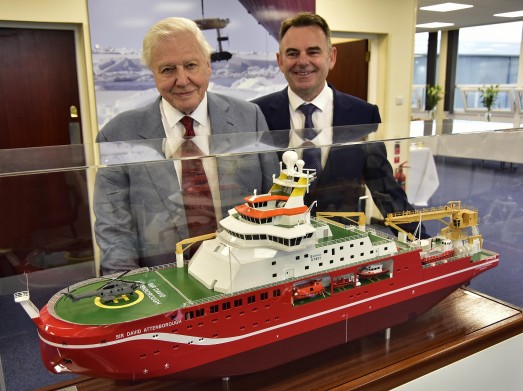 "Winning the Sir David has thrust the Cammell Laird brand back to where it belongs in the global super league of shipbuilding," he said. "We won it against fierce international competition and it sends a massive message to industry about the world class skills, facilities and workforce we have here. The complex nature of the build and the polar specifications required means very few shipyards now have our experience. We fully intend to market this polar capability hard in 2017 together with our wider expertise in the shipbuilding, conversion and repair markets. Cammell Laird is fully behind the UK Government's desire to see British shipbuilding aggressively pursue the exports market and promote Britain as an easy place to do business post Brexit. Cammell Laird is perfectly placed to become a giant engine creating wealth and skilled jobs across academic abilities for our community and the UK economy. Moreover, the recommendations made by Sir John Parker in his National Shipbuilding Strategy are very astute and stand to create more opportunity for shipyards like Cammell Laird to win work particularly in the naval new build sector, where again we have considerable experience with the recent aircraft carrier programme. Success within our maritime division will in turn enable us to diversify further into multi-billion pound energy markets like nuclear, oil and gas and renewables."
Cammell Laird managing director Linton Roberts said the total number of dry-dockings and repairs in 2016 was more than 150 while workforce numbers peaked at 1050 in full-time and contractor positions while apprentice numbers had grown by 21 to 79. In terms of other new build work, he said the Birkenhead-based yard had sent the Strangford Lough ferry 'Strangford II' for commissioning and sea trials before being delivered to her owners the Northern Ireland Executive at the beginning of October.
Mr Roberts said the range of the ships and breadth of work undertaken reinforced the capabilities within the company. He said Cammell Laird has undertaken repair and routine dry-dockings for a number of RoRo and RoPax customers including P&O Ferries, Stena Line, Seatruck Ferries, Irish Ferries, the Isle of Man Steam Packet Company and Caledonian McBrayne. Ships worked on include: Clipper Ranger, Ben-My-Chree, Clansman, Finlaggen, Isle of Arran, Isle of Lewis, Loch Portain, Lochinvar, Lord of the Isles, Isle of Inishmore, Jonathan Swift, Manannan, Norbank, Norbay, European Endeavour, Stena Performer, Seatruck Progress and Seatruck Pace.
Mr Roberts said the Caledonian MacBrayne's flagship, the 2014-built 'Loch Seaforth', travelled from Ullapool for an 11-day dry dock in October, followed by the 'Lord of the Isles' and 'Hebridean Isles' in November. The 'Isle of Mull' is scheduled for the end of November. A variety of other types of vessels have also been accommodated. The Afon Dyfrdwy Airbus wing carrier was in drydock in July, and the Amazone paid a visit for hopper door repairs in the same month. Meanwhile, The 'Galileo G' Expedition Superyacht was an exotic visitor in May.
Mr Roberts said Cammell Laird had seen a quieter year in RFA work ahead of an expected upturn in 2017. Cammell Laird has a through-life support cluster contract to maintain nine of the 13 ships in the RFA flotilla. However, the yard did undertake a dry docking and maintenance period for the RFA Fort Rosalie between October and November.
Elsewhere Cammell Laird repaired Mersey Ferries' Royal Iris following a grounding at the entrance to the Manchester Ship Canal, and fellow Mersey Ferries Royal Daffodil and the dazzle-painted Snowdrop were also drydocked during the year. Meanwhile, bunker tanker Mersey Spirit, hopper barge HAM 602, jack-up Irish Sea Pioneer and tug Switzer Asgarth all visited the shipyard during 2016. The historic steam tugs Daniel Adamson and Kerne departed the shipyard in the middle of the year, both centenarians having completed comprehensive rebuilds. A new visitor to Birkenhead in November was the container vessel Rachel Borchard, docking for repairs.
Mr Roberts said work outside standard dry-dockings and repairs included a contract for the manufacture and installation of 400t of steelwork to be fitted on board the A2SEA Sea Installer for its upcoming deployment works on the Burbo 2 wind farm extension.
"The contract represented a significant win for the company," he said. "The project has seen the manufacture of three main structures, two of which support 12 giant wind turbine blades with the remaining structure supporting four turbine towers. A range of deck fittings have also been manufactured to enable four nacelle hubs to be transported and installed offshore. The structures were delivered in 71 days, and were fitted in a 30 day installation period, showcasing our ability to react to challenges with short lead times. It is important to emphasize our multiple manufacturing locations, which position us ideally to continue to serve the offshore wind and renewables sector."
Source: Cammell Laird