Naming ceremony held for the first of four ultra-large containerships for MOL
- recorded as the world's largest ship, surpassing 20,000 TEU
SHI leading size growth in containerships with industry-leading human resources and R&D infrastructure
- Expected to deliver ten 20,000-TEU container ships this year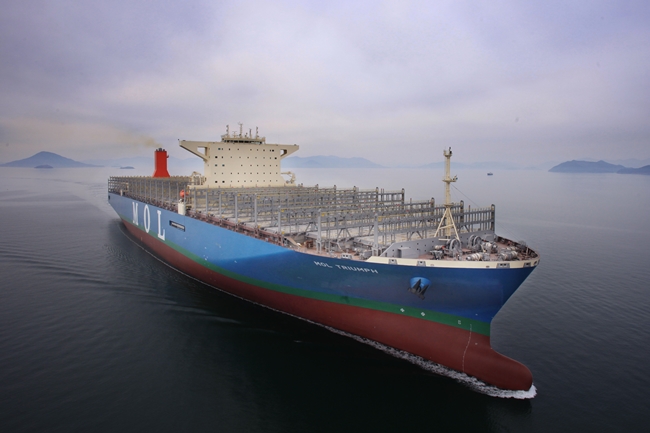 SHI-built the world`s first 20,150 TEU containership - Image courtesy SHI
Samsung Heavy Industries, Ltd. (SHI) broke the record for building the largest container ship surpassing 20,000 TEU.
SHI held a naming ceremony for the first of four 20,150 TEU containerships, ordered from Japan's MOL in February 2015, in Geoje shipyard on March 15.
The eventful ceremony gathered 90 from both SHI and MOL, including SHI CEO Dae-Young Park and MOL CEO Junichiro Ikeda, to witness the naming of 'MOL Triumph.'
MOL Triumph, with a length of 400m, breadth 58.8m, depth 32.8m, is an ultra-containership that can transport 20,150 containers.
The eco-friendly ship boasts an array of energy-saving types of equipment designed by SHI including propeller, rudder valve, and stator.
SHI has been leading the market with operation-optimized hull design and record-breaking container ship size. SHI is well known for world-class employees and class-leading R&D infrastructure including the world's largest commercial towing tank in Daeduk R&D center.
Successful construction of the MOL Triumph is yet another proof of SHI's technological excellence. MOL has hailed SHI's performance for zero incident construction for 15 months since steel cutting in January 2016.
MOL Triumph will be delivered to MOL on March 27th after finishing preparation for the maiden voyage.
Source: Samsung SHI