The Port of Prince Rupert Monday announced an expansion project for containerized cargo on Ridley Island that will help crops from the Canadian agricultural industry reach international markets while expanding intermodal logistics capacities at the Port of Prince Rupert.
Ray-Mont Logistics is developing an integrated logistics and container loading operation at the south end of the Ridley Island Industrial Site on the recently-constructed Road, Rail and Utility Corridor. The operation will involve pulses and cereals (such as lentils, peas, beans, soybeans, flax, and wheat) as well as other specialty agricultural crops transported in hopper cars by rail from Western and Central Canada and the US Midwest. The cargo will be transferred to ocean containers for export via the Fairview Container Terminal, which is currently undergoing expansion.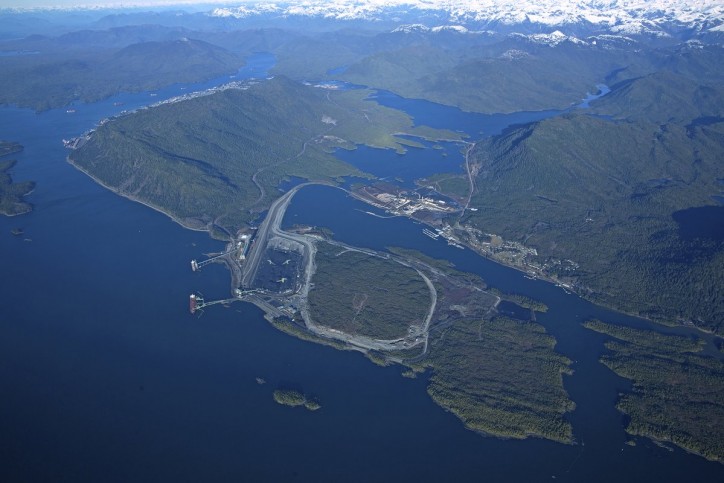 Image courtesy of Port of Prince Rupert
"It is our pleasure to be working with the Prince Rupert Port Authority and its partners to establish a new transload facility in the Port of Prince Rupert, and continue to pioneer efficient services for connecting North American crops to overseas customers," said Charles Raymond, President & CEO of Ray-Mont Logistics International. "Our core values of quality, flexibility and innovation are reflected in the strategic vision being executed by the Port of Prince Rupert, and we look forward to adding this valuable service to the Prince Rupert supply chain later this year."
Operation of the completed facility will employ an estimated 40 people. The ten-acre facility will include a rail loop corridor in excess of 100 railcars, a grain dumper pit, and a state-of-the-art conveyance system.
The Ray-Mont facility will utilize rail tracks on the Ridley Island Corridor to take delivery of agricultural commodities and meet market demand for port-loaded export containers on the West Coast. Cargo will be sent to Prince Rupert by agricultural shippers in Alberta, Saskatchewan, Manitoba and further inland, to be unloaded at the facility via a conveyor unloading system.
IDL Projects, on behalf of Coast Tsimshian Northern Contractor Alliance, will begin clearing the site this week and the new transloading facility will be operational in time for the 2017/18 crop year this fall.
"We're excited to partner with Ray-Mont Logistics to create a Canadian trade solution for high-value, high demand agricultural products," said Don Krusel, President and CEO of the Prince Rupert Port Authority. "This exciting development is another important step advancing the expansion of intermodal logistics services with our partners CN and DP World to meet the growing demand of Canadian exporters seeking to capitalize on the advantages of the Port of Prince Rupert in reaching their global markets."
Ray-Mont Logistics is the latest company to invest in logistics and transloading services at the Port of Prince Rupert, supporting its growing intermodal business. Fairview Container Terminal is currently being expanded to handle an increase in annual volumes from 850,000 TEUs to an anticipated 1.3 Million TEUs. The expansion is due for completion in August 2017.
Source: Port of Prince Rupert