DFDS is strengthening its position in the port of Ghent. This will be the result of its decisions to increase the number of ro/ro freight sailings between Ghent and Gothenburg, and to strengthen its hinterland anchoring by transporting containers in a fixed schedule three times per week aboard inland vessels in the direction of Antwerp and Rotterdam. The company announced this together with Ghent Port Company on Tuesday, March 28 during the state visit of Belgium to the Danish city of Copenhagen where both parties signed a strategic partnership.
Ro/Ro traffic between Ghent and Gothenburg
By means of three ships, DFDS is offering six sailings a week on its freight route between Ghent and Gothenburg. DFDS has announced that during the summer of 2017, the Ark Germania will be added as a fourth ship to the route. This will increase the number of weekly departures from six to eight to accommodate for the growing capacity needs of its customers and boost business in port of Ghent.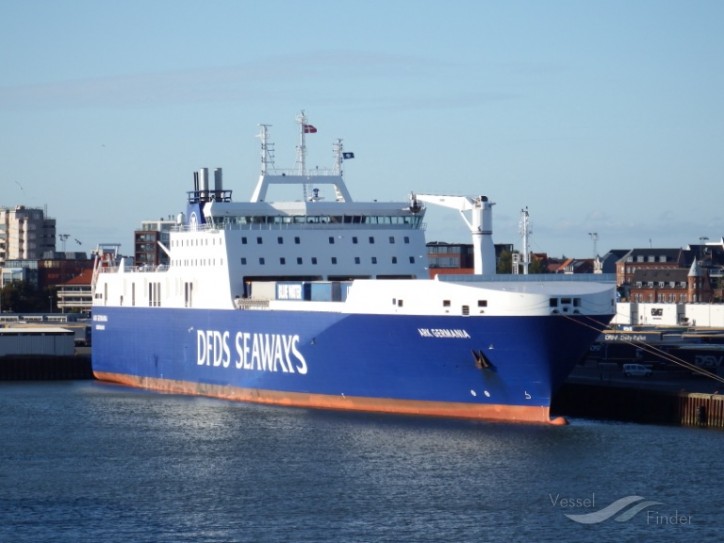 Ro-Ro Cargo Ship Ark Germania - Image courtesy of Ian Greenwood
In 2016, the Ghent-Gothenburg service (which also calls at Brevik in Norway once a week), catered for the transport of 2.1 million tonnes of goods, the second highest volume ever. Expressed in lane metres (the sum of the length of all trailers and cars shipped in 2016) this was the best year ever with 1.8 million.
Connections via inland vessel and rail
Furthermore, DFDS is expanding its activities in Ghent port with a fixed schedule of three sailings per week for containers on inland vessels. The barges are loaded at the multimodal terminal located at the Mercatordok. From there, a regular container line will be set up with sailings on Monday, Wednesday and Friday between Ghent and the ports of Zeeland Seaports, Rotterdam and Antwerp.
The multimodal terminal is equally fitted with rails that link up with the European network. There are for instance 10 dedicated trains per week carrying steel, truck cabins and palletized cargo from and to France (Dunkerque, Mardic and Montaterre), Germany (Krefeld) and Sweden (Malmo, Umea and Halsberg). Moreover, DFDS also offers a train connection for trailers to Le Boulou at the Spanish border three times a week. After the summer, this frequency will increase to five.
Sweden
DFDS's ro/ro traffic makes Sweden one of the main trading partners of Ghent port, year after year.
Source: Port of Ghent