Australian shipbuilder Incat has been awarded a significant contract for the design and construction of a large new vehicle-passenger ferry for a major European operator.
The new vessel for Naviera Armas is the second vessel in Incat's new generation 109 metre high-speed wave piercing catamaran range and will operate in Spanish waters when delivered in early 2019.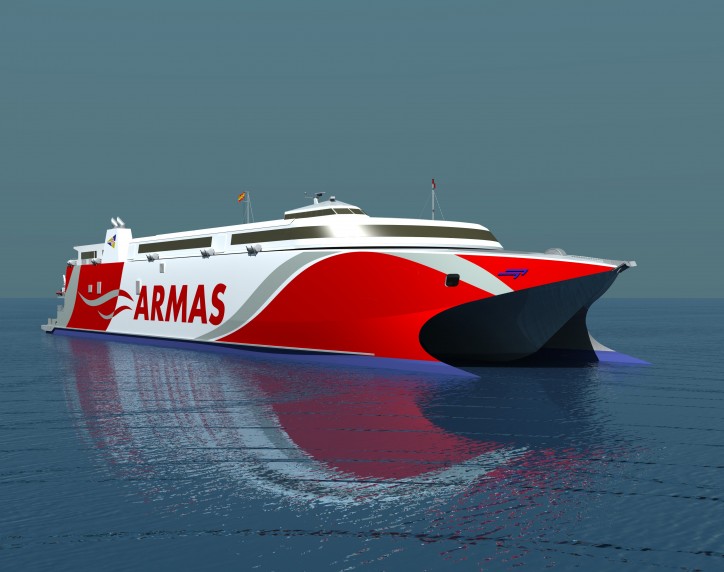 Images courtesy of Incat
Born out of the extensive in-service experience of the Incat 112 metre, the concept was redesigned from the keel up by Incat's in-house naval architects and engineers at Revolution Design Pty Ltd. The result is the 109-metre catamaran which offers similar passenger and vehicle capacity as the 112 metre but with substantial performance improvements, including vastly improved speed, lower fuel consumption and enhanced directional stability.
This latest refinement of Incat's well-proven wave piercing hullform, a design favoured by high-speed craft operators around the globe, was first introduced in Mols Linjen's 109 metre wave piercing catamaran Express 3, delivered in April. During sea trials Express 3 achieved an impressive speed of 43 knots at 600 tonnes deadweight.
Seeking to present a new concept of fast ferry service in Spain, Naviera Armas is actively investing in high-speed craft. This new vessel will be the third Incat craft to join the Naviera Armas fleet in as many years, following Volcán de Tirajana (Incat Hull 062, 98 metre) purchased in 2015 and Volcán de Teno (Incat Hull 056, 96 metre) acquired last year.
Robert Clifford, Incat's Chairman, commented: "Our vessels are well proven around the world in rough water conditions. In wanting to offer their passengers the very best in reliability and comfort, Naviera Armas sought the qualities of the wave piercing catamaran and compared even with their earlier Incat vessels this new generation craft for Armas will be a real step up in terms of passenger comfort and economies of scale."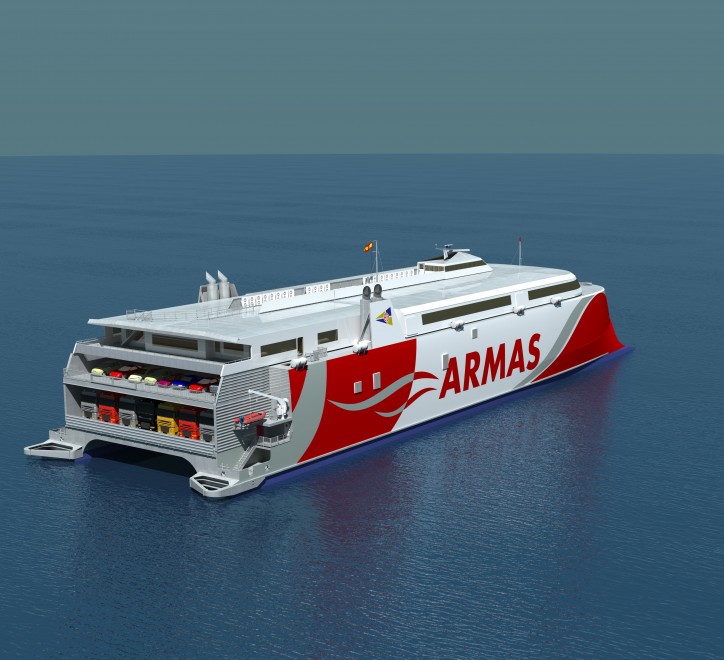 The first two Incat vessels in the Naviera Armas fleet were purchased after completing service elsewhere in Southern Europe but as Armas CEO Antonio Armas explains, the significant global demand for fast ferries is translating to orders for newbuild tonnage.
"It is very hard to find quality second hand high-speed ferries in the market, nevertheless given the performance of the two Incat-built vessels already purchased we are confident the wait for the newbuild 109 metre will be well worth it. This new Incat 109 metre will provide a service speed of 35 knots (65km/h) and accommodate 1200 persons including 155 persons in business class. It will also be the first high-speed ferry in southern Europe to feature a dual vehicle deck allowing cars and freight to be transported separately. The main deck has capacity for 595 truck lane metres with a 4.6 metre clear height and the upper deck will accommodate 215 cars." Mr Armas says.
The contract price is EUR74 million and construction of the vessel will commence in June 2017.
Incat is also building a state-of-the-art 110-metre fast ferry for Mediterranean company Virtu Ferries for service between Malta and Sicily. That new ship (Incat Hull 089) is scheduled for delivery at the end of 2018.
Incat currently has a 550-strong workforce at its Hobart shipyard and the yard is geared for delivering up to two large HSC per year. In addition to the three large fast ferries mentioned the yard has recently delivered the first of six new iconic passenger ferries for Transport for NSW to operate on Sydney Harbour.
Source: Incat