A consortium led by Blue Water Shipping has been awarded an additional contract by Tengizchevroil (TCO)
In 2016, Blue Water Shipping announced the signing of three contracts in connection with the Tengizchevroil (TCO) Future Growth Project-Wellhead Pressure Management Project (FGP-WPMP). For these contracts, Blue Water Shipping is leading two consortiums that will supply 20 specially designed Module Carrying Vessels (MCVs) for the transportation of modules through the Russian Inland Waterway System and on the Caspian Sea to a new offloading facility in Prorva, Kazakhstan.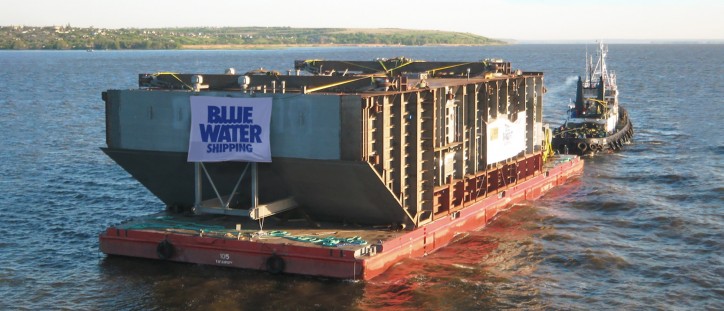 Blue Water Shipping can now announce a new contract in support of TCO's FGP-WPMP. Blue Water Shipping is leading a consortium which includes Manchester Shipping. This consortium has been awarded a contract for the international transport of modular cargo from the Black Sea and the Baltic Sea – via the Russian Inland Waterway System – to Prorva in Kazakhstan. This will involve the use of up to 11 barges and 29 tugs. These vessels will be upgraded and modified where required to meet the specific transport requirements of the cargo movements.
The consortium will work in close cooperation with the leading Russian tug and barge operators for the provision of the vessels' crews and services within the Russian Inland Waterways. This will bring significant investment into the Russian system and the client will benefit from the combined expertise and experience of the involved companies
"Blue Water Shipping has more than 20 years of experience in complex transport in the Caspian Sea region, and we are honored and very delighted to have been awarded these contracts for TCO. We are in close partnership with strong and leading companies for each of the contracts," states Kurt Skov, CEO and founder of Blue Water Shipping.
Tengizchevroil LLP is a Kazakhstani partnership that explores, develops, produces and markets crude oil, LPG, dry gas and sulfur. TCO conducts its operations in accordance with world-class safety and environmental standards. In April 1993, Tengizchevroil was formed between the Republic of Kazakhstan and Chevron Corporation. Current partners are: Chevron Overseas Company, 50 percent; KazMunayGas NC JSC, 20 percent; ExxonMobil Kazakhstan Ventures Inc., 25 percent and LUKARCO B.V., 5 percent.
Source: BWS