May 20th is expected to bring a record number of cruise passengers to the Canada Place terminal in the Port of Vancouver this year, reaching nearly 16,000 passengers in one day. High cruise passenger volumes are also expected at and around the Canada Place cruise terminal Saturday, May 13 and Saturday, May 20
On each day, a large number of embarking and disembarking cruise passengers is expected between 7:00 a.m. and 5:00 p.m. at Canada Place. As a result, higher than normal traffic volumes are anticipated in the downtown core, along with increased demand for taxis and public transportation.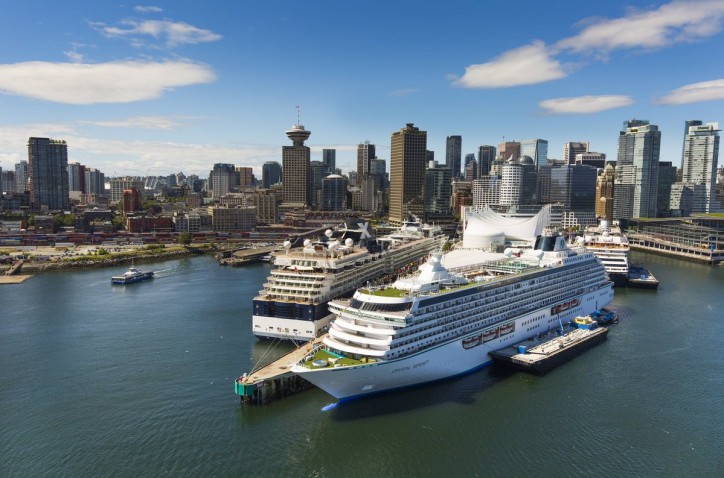 Image courtesy of Port of Vancouver, Canada
In an effort to accommodate the additional passengers, the Vancouver Fraser Port Authority, which manages the Canada Place Cruise Terminal, is working with cruise lines, the City of Vancouver, Tourism Vancouver, Vancouver Convention Centre, Vancouver taxi companies and other transportation service providers and surrounding Canada Place stakeholders to raise awareness about the significantly increased demand.
Departing cruise passengers are asked not to arrive at Canada Place cruise terminal prior to their scheduled embarkation time so as to avoid further congestion while disembarking passengers are leaving their ships. Given the significant number of passengers, the port authority is advising those going to the terminal to make transportation arrangements in advance.
The port authority will have additional staff on site for these three days to assist with passenger inquiries. There will also be Vancouver Police Department Traffic Authority staff managing traffic and pedestrian flows at nearby crosswalks.
Vancouver expects to welcome approximately 840,000 cruise passengers in 2017 on 237 vessel visits, reflecting a two per cent increase in passenger volume over 2016. The Vancouver cruise industry stimulates on average nearly $3 million in direct economic activity for each vessel that visits Canada Place, and the 2016 cruise season directly generated nearly 7,000 jobs across Canada, $300 million in wages, and contributed $840 million to national GDP.
Source: Port of Vancouver, Canada