Vietnam's Hau Giang Maritime Service Company (Vinalines Hau Giang) last week inaugurated phase one of Hau Giang Vinalines general port project capable of handling ships of 20,000 DWT after more than 10 months of construction
Speaking at the opening ceremony, Vo Thanh Phong, general director of Vinalines Hau Giang, said the port has a berth of 150 meters, and together with supporting facilities such as warehouses, container yards and other technical infrastructure, phase one allows for maximum throughput of one million tons of cargo a year.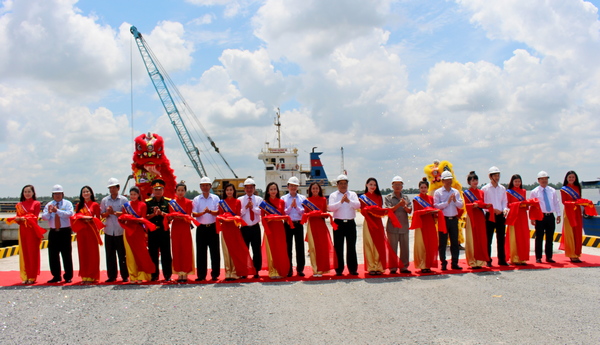 According to Vinalines Hau Giang, phase one of the project is developed at a cost of nearly VND229 billion (about US$10.1 million). The project was designed by the Construction Consultation Joint Stock Company for Maritime Building (CMB), supervised by Thinh Long Corporation and constructed by a consortium comprising An Gia Phat Construction Joint Stock Company and Southern Construction Joint Stock Company.
Vinalines Hau Giang general port project covers an area of 87 hectares and requires total investment capital of nearly VND399 billion, including warehouses, workshops, roads and technical infrastructure.
With the launch of phase one as well as the whole project in the future, Phong expects Vinalines Hau Giang to better facilitate cargo transport in Hau Giang Province, Can Tho City and the Mekong Delta as a whole.
Source: Vinalines