Port Canaveral has been awarded Green Marine environmental certification in recognition of the Port's effective environmental leadership and management. The award was presented at the 2017 annual GreenTech conference held by Green Marine, which is marking its 10th anniversary as North America's environmental certification program for the maritime industry. Port Canaveral earned the certification in just over a year after achieving all the required performance indicators to become the 100th port to join the Green Marine environmental program.
"This certification is an important achievement for Port Canaveral," said Port CEO Captain John Murray. "This award recognizes our commitment to strong environmental stewardship through measured and responsible growth. It is with this focus that Port Canaveral charts its future, with responsible leadership and a commitment to promoting greater sustainability."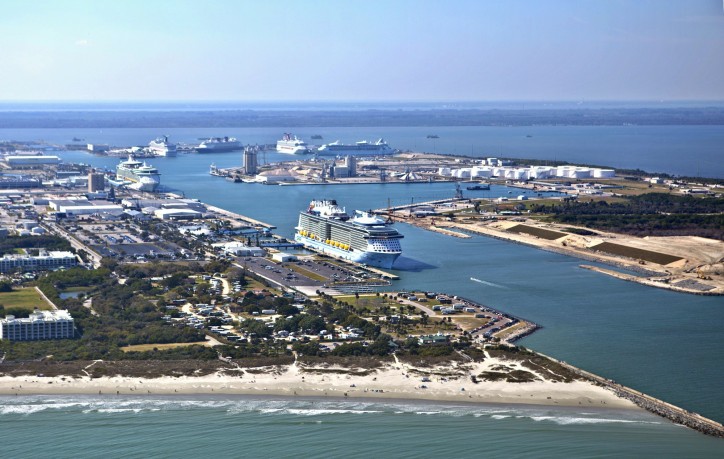 The Green Marine Program is a voluntary North American maritime industry certification initiative committed to advancing environmental excellence and promoting programs, plans, and initiatives that focus on surpassing Federal and State regulatory requirements. Program applicants are required to submit annual Self-Evaluation Reports, which must successfully pass a third-party review and verification process. Applicants are reviewed on performance criteria ranging from waste management best practices, invasive species management, community initiatives and impact, spill prevention, and environmental leadership. Port Canaveral exceeded regulatory requirements in all categories, earning the highest score possible in Spill Prevention, which includes storm water management and pollutant reduction.
"We're constantly raising the bar as new regulations come into effect, improved technologies become readily available, and new emerging issues are introduced as additional priorities," said David Bolduc, Green Marine's executive director.
About Port Canaveral:
Led by the elected five-member Canaveral Port Authority Board of Commissioners and Port Director and CEO, Captain John Murray, Port Canaveral is one of the world's most dynamic and exciting ports. A world-class gateway for cruises, cargo, recreation and logistics, as well as a gateway to new frontiers, including space, Port Canaveral hosts more than 4 million revenue cruise passengers through its state-of-the-art terminals and 5.5 million of tons of cargo annually, including bulk, break-bulk, project, and containerized. The Port is strategically located to service all Florida markets, as well as the Southeastern United States. In addition to world class cruise facilities and diverse cargo operations, Port Canaveral offers more recreational opportunities than all other Florida deep-water seaports combined, including public parks, free public boat ramps, marinas, an entertainment district, and the seven-story interactive exhibit and event venue Exploration Tower.
Source: Port Canaveral