Following the arrival of the MOL Triumph (20,170 TEU) on 19 May and the Madrid Maersk (20,568 TEU) on the morning of Monday 12 June, the OOCL Hong Kong is expected to arrive in Rotterdam on the afternoon of Friday 23 June. At 21,413 TEU, it is the world's largest container ship. It will also call in at the European ports of Felixstowe, Gdansk and Wilhelmshaven. Its arrival will mark the climax of a month of increasingly large container ships in Rotterdam and confirms the importance of the scaling-up of container shipping to the Port of Rotterdam.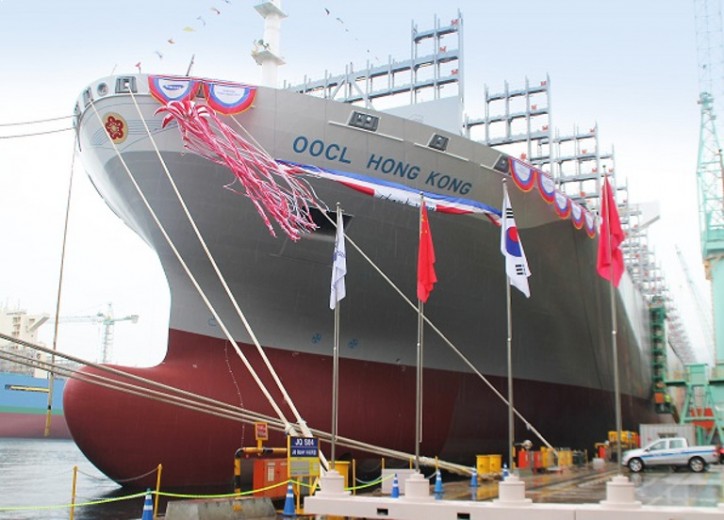 Just over two years ago, the MSC Oscar headed the list of the largest container ships, but this spring the vessel was relegated from the top three. The arrival of the three ULCCs (ultra-large container carriers) underlines the importance of scaling up in the container handling industry. Emile Hoogsteden - Director of Containers at Breakbulk & Logistics - is delighted with the arrival of the container leviathans: "Rotterdam is the only port in North-western Europe where these huge vessels can moor without any restrictions."
Maasvlakte 2 at full steam
Hoogsteden is also pleased with the striking growth in the Rotterdam container sector (8.8% by volume (TEU), 10.8% by weight) during the first quarter of 2017. "The growth in container handling is largely down to the fact that Maasvlakte 2 is now truly operating at full steam." Activity at the new terminals on Maasvlakte 2 is improving all the time, and shipping companies have brought back to Rotterdam substantial quantities of cargo that had been moved elsewhere in late 2015 and early 2016.
Ronald Lughart, Director at Rotterdam World Gateway, one of two fully automated container terminals at Maasvlakte 2, confirmed this last month when the MOL Triumph sailed into port: "The occupancy rate at our fully automated terminal is currently at around 90%."
Source: Port of Rotterdam