Cai Mep Int'l Terminal (TCIT) Vietnam handled an all-time high of 1,000,000 twenty-foot equivalent units (TEUs) in October, positioning the company on the road to achieving its targets for 2017.
On October 12th, 2017, TCIT welcomed the container OOLU 9595740 – the 1,000,000th TEU handled in a year - from vessel OOCL GENOA at 1:20 PM. This achievement is a satisfactory result for unrelenting effort of all TCIT staffs.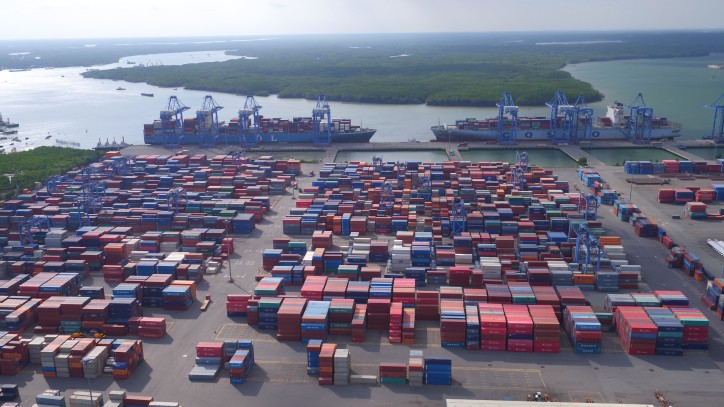 Tan Cang – Cai Mep Int'l Terminal is a joint venture among Saigon Newport Corporation with 03 foreign partners including Mitsui O.S.K Line (MOL), Wanhai Lines (WHL) and Hanjin Transportation (HJT). The business term has come into operation since January 15th, 2011.
Being known as a deep-water terminal located near Cai Mep – Thi Vai T-junction, 18 nautical miles away from Vung Tau Pilot station, TCIT possess the channel depth of minus 14 meters. Its water draft at berth can reach minus 16.8 meters, which allows TCIT to accommodate big-sized vessels up to 160,000 DWT.
Modern handling facilities include: 03 long wharves with 890 meters in length, 34 ha container yard, 09 ship-to-shore Panamax gantry cranes with outreach of 55 meters, 03 Liebherr RMGs for barge handling. Formed by a skilled workforce, TCIT adopts innovative technology to control terminal operations – TOPX provided by RBS Australia, as well as receives the most valuable support from other subsidiaries of Saigon Newport Corporation: professional pilot service and modern towing service, which help minimize the duration of berth stay and provide the best maritime safety.
Since the operation started in 2011, 2017 is the second year in a row in which TCIT's throughput exceeds 1,000,000 TEUs in a year. Previously in 2016, for the first time ever, the company celebrated the 1,000,000th Teu on November 28th, FY 2016 volume is 1,112,197 TEUs. Thanks to the trust of valued customers and great effort of all staffs, TCIT has overcome new challenges resulted from the reconstruction of worldwide shipping alliances in last April: handling volume surpassed 1 million TEUs on October 12th, 2017– one and a half months earlier than last year, the total figure for 2017 is expected to reach 1,3 million TEUs – 13% higher than 2016.
TCIT's constant leading position in Cai Mep – Thi Vai area is undoubtedly realized through the number of services and its volume: attracting 10 weekly services of 03 largest shipping alliances in the world (THE Alliance, OCEAN Alliance, 2M +HDM) together with some domestic services; being the first runner-up in container volume throughput and clients' top choice for container transshipment in Vietnam.
To commemorate the occasion of welcoming the 1,000,000th Teu in 2017, TCIT would like to appreciate the support and unwavering trust of all customers, carriers and partners in TCIT's marine services. We hope to continuously receive your collaboration and companion in the future.
Source: TCIT