This week,
Maersk Training
has announced the launch of two courses, the
OPITO 6 Day Combined Helideck and Team Member Training
and the
OPITO Helideck Emergency Response Team Member Training
. They are OPITO accredited and will begin this month in Aberdeen.
To support the courses, the Maersk Training center was recently equipped with new Helicopter Simulator and Helideck fire ground. The system for helicopter simulator is dual and simulates Eurocopter 225 and Sikorsky S92. Pressure fuel fire, running fuel fire and sponson are simulated by the aircraft. The construction system of the fixture is unique and allows inner configuration change. The Helideck is 144 square meters and features two heliwells. Both are 3m×2m with hydrant heads and monitors. The heliwells can cross ark and completely cover the deck with aqueous film.
The Managing Director, Stuart Cameron, stated:
"By adding the HERTM to the company's course list, Maersk Training is one step closer to being a one stop shop for all offshore wind and Oil & Gas training needs. The simulators will enable us to offer a better offshore emergency response learning experience which is not only realistic but also unique."
HERTM (OPITO Helideck Emergency Response Team Member) will be 4-day. It will include theory combined with practical elements. It will give realistic and accurate idea of how emergency response team should behave. The trainees will be provided with all helideck and helicopter landing procedures and all offshore installation emergency response procedures. Lead instructor of the course will be Adrian Barron.
"Throughout the course, delegates are introduced to the helideck emergency response planning, system and controls, personal protective equipment and any potential hazards during emergency response. They will be taught to efficiently extinguish any helideck associated fires, search and rescue of potential casualties and communicate effectively with the Helideck Landing Officer (HLO) and the rest of the team. However, they are also instructed on the correct procedure to be followed in case they would at any point need to assist the Offshore Emergency Response Team in the event of an incident," commented Barron.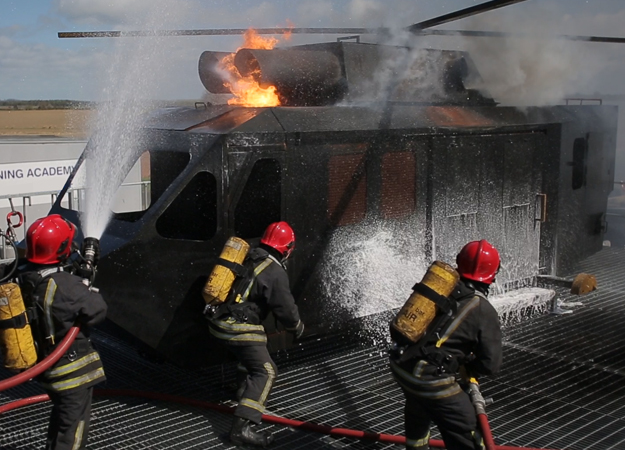 The second course, OPITO 6 Day Combined Helideck and Team Member, gives the necessary knowledge for a HDA HERTM (Helideck Assistant) and for a OERTM (Emergency Response Team Member). The idea is to educate the delegates the difference between the two positions and to give them the potential opportunity to fulfill both roles.