The Japanese based Imabari Shipbuilding Co., Ltd. announced today that it had manage to secure an order for eleven 20, 000 TEU containerships.
They will have measurements of roughly 400 m x 59 m and are to be constructed in a large newbuilding dry dock of approximately 600 m length x 80 m breadth which is going to be constructed on land that the shipbuilder reclaimed, near its Marugame City headquarters. Imabari plans to invest around Yen 40-billion in the project regarding the new Marugame facility that will include a block factory and three 1, 200-ton goliath cranes.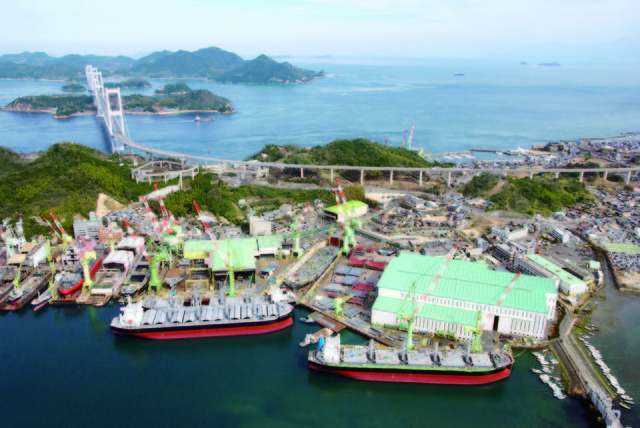 Image: Imbari
The first of the giant containerships is scheduled to be delivered in 2018. A construction permit has been granted to the new building dock and the initial building processes are to begin during the following month, with expectations being that it will be completed for October 2016.
Despite the fact that Imabari did not provide any information regarding the byer of the 20, 000 TEU vessels, it is very likely that they are the same vessels as the eleven 18, 000 TEU ships of the same hull dimensions and the same delivery horizon, that were mentioned yesterday by Taiwan's Evergreen Marine in regards to time charter them from Imabari affiliated owner Shoei Kisen Kaisha, Ltd. Mr. Yukito Higaki is the president of Marubeni as well as Shoei.
This raises the question of why some of the vessels are said to have a capacity of 20, 000 TEUs while the others are in the 18, 000 TEU capacity range. The issue maybe derives from the potential difference between the nominal maximum TEU capacity of the vessels and the actual number of containers intended to be carried by the operator. The biggest box ship operator in the world, Maersk Line, for example quotes vessel capacity in regard to filled TEUs with an average of 14 tonnes per box total weight. This value is always lower when compared to the straight TEU capacity.
Despite all this, the vessels ordered to Imabari are nothing other than gigantic. Meanwhile, in March the company will deliver the largest containership ever built in Japan, which will be the first in a total of five 14, 000 TEU ships ordered by "K" Line.