Vessels, cranes, barges, tugs and pushers arrive, depart or just shift. Ships are being loaded and unloaded, boatmen moor, Police-, Customs-, and Pilot boats patrol, guide or assist otherwise.
The port of Amsterdam (Dutch: Haven van Amsterdam) is a seaport in Amsterdam, the Netherlands. It is the 4th port in Europe by metric tonnes of cargo. The port is located on the bank of a former bay named the IJ and the North Sea Canal, with which it is connected to the North Sea.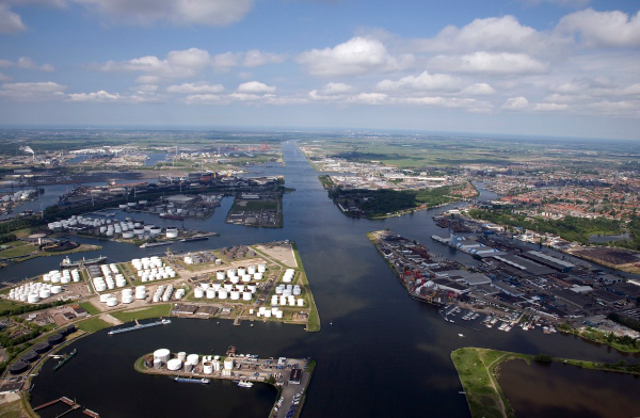 Image: Port of Amsterdam
The port was first used in the 13th century and was one of the main ports of the Dutch East India Company in the 17th century. Today, the port of Amsterdam is the second largest port in the Netherlands, the largest being the Port of Rotterdam.
In 2014, the port of Amsterdam had a cargo throughput of 97.4 million tons, most of which was bulk cargo.
The port of Amsterdam is located on the banks of the North Sea Canal and the IJ. The port is connected to the North Sea through the North Sea Canal, to Den Helder through the North Holland Canal, to the Markermeer through the IJ and the IJmeer, and to the Rhine through the Amsterdam-Rhine Canal.
In total, the port comprises 620 ha (1,500 acres) of waterways and 1,995 ha (4,930 acres) of land area, including port estates, quays, roads, railway tracks, ditches and green space.
Bulk cargo:
-the port of Amsterdam is the biggest dry bulk port in Europe, mostly coal and gasoline, Amsterdam is both the biggest gasoline and cocoa port in the world.
Breakbulk:
-the third biggest break-bulk port in Western Europe.
Food:
-world's largest cocoa port.
The port of IJmuiden is a European hub for fish, and the port of Beverwijk is a big port for fruit and potatoes.
Cruises:
-ranking the 4th cruise port in North-Western Europe with more than 150 cruise ships every year.
Footage including but not limited to: Viking Adventure, The CVV boatmen of IJmuiden, tanker Martine with two Tugs, Svitzer Tug, Moleson, Veronica PG, Miho Pracat, KP19 Koperen Ploeg boatmen, Svitzer Amstel, Koperen Ploeg boatmen mooring Kati, Piavia, P97 Police boat, Iskus Arion Tug, Themsestern, Queen Victoria, Igma barge cranes, RWS 70 Rijkswaterstaat service boat, Port of Amsterdam 3 pilots, Svitzer Svezia tug, Diana Shipping Inc, Anita, barge crane Vanitas, Turchese, GVB Pont 4, Durban Bay, Lady Ami, Safmarine Linyati, MaJa barge crane, RIO, GVB IJveer 56, Weichelstern, pushboat Scorpio, Erasmus barge crane, Yong Huan, Port of Amsterdam 5 port authority service boat, Dumlupinar
About the song:
"(port of) Amsterdam" is a 1964 song by Jacques Brel. It combines a powerful melancholic crescendo with a rich poetic account of the exploits of sailors on shore leave in Amsterdam, it's one of his most enduringly popular works and been published in at least 9 languages. The song used in the video is a live recording, performed by Ute Lemper.
Source: BbqHoorn