Wärtsilä Corporation has won a contract for designing 2 Container RoRo vessels for US customer. One of the leading companies in the maritime industry known for its new technology products will work with Crowley Maritime Corporation.
The vessels will be using LNG and will be built at the VT Halter Marine's shipyard in Pascagoula, Mississippi. Wärtsilä Vessel Design's WSD CRV 2400 WB allows to transport 20 ft, and 40 ft containers and also the the special 45 ft and 53 ft wide body high cube container designed especially for the US market. The ship design is planned to be for 350 private cars. When finished, these RoRo types will be first liquefied natural gas powered, American flagged, container RoRo vessels. They will be dispatched between Jacksonville, Florida and San Juan, Puerto Rico on a rotational basis.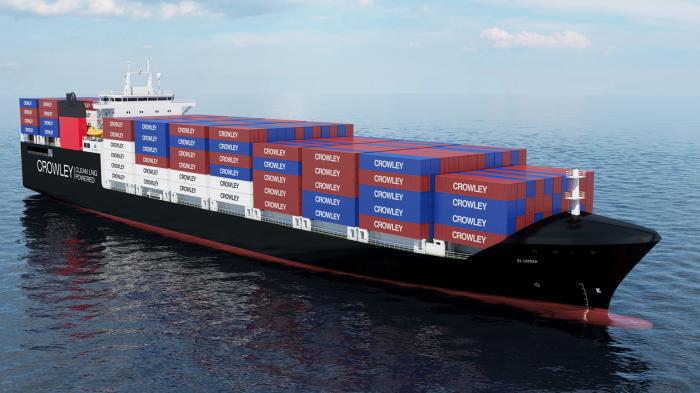 The ship design must comply with the strict regulations of the Emission Control Area (ECA) along the eastern seaboard of the US. The RoRo vessels will be characterised with low emissions, reliability and speed. This new development makes the bar higher for the shipping industry, not only for US registered vessels, but worldwide. The new environmental friendly RoRo development is a step further for a "green" future. The company is a worlwide leader in LNG propulsion solutions for the marine industry. The latest order confirms that.
WSD CRV 2400 WB
| | |
| --- | --- |
| Length over all: | 219.5m |
| Breadth: | 32.24m |
| Depth: | 18.0m |
| Draught, max: | 10.36m |
| Service speed: | 21kn |
| Deadweight at scantling: | in excess of 26,000t |