A signing ceremony has been successfully held in Marseille on 19 September between CMA CGM Group and CSSC Group for the Shipbuilding Contracts of nine largest container vessels of 22,000 TEU.
In the presence and witness of the top management by CMA CGM and CSSC, the representatives from CMA CGM, Hudong-Zhonghua Shipbuilding (Group), Shanghai Waigaoqiao Shipbuilding and CSTC signed the contracts respectively.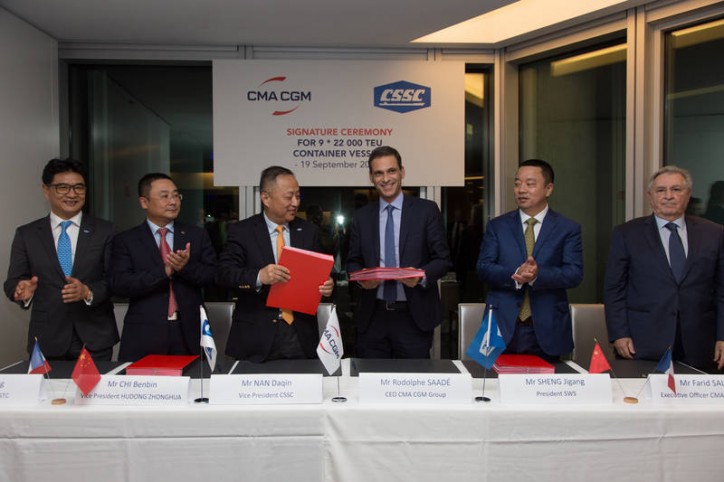 As an active player and pioneer, CMA CGM ordered these nine vessels, which is the largest container Vessels order in the world so far.
The successful signing of the contracts symbolized the strategic cooperation between CMA CGM Group and CSSC Group, which also proved the recognition of the capability of CSSC Group by the world's top ship owners and the leading position of the Chinese shipbuilding industry in the world.
CMA CGM and China, a historical relationship that began in 1992
The story of CMA CGM and China begins in 1992 when the entire Chinese import-export is from Hong Kong, still under the British colony.
Jacques Saadé, founder of the Group, is convinced of the future role of this country in the world economy through the opening of its ports to the world and decides to open a first agency in Shanghai. Then, he recruited a Professor of Maritime Law, John Wang, to be in charge of constituting a network of offices, needed for commercial development.
Between 1992 and 2001, John Wang built a commercial network ready to assist the development of the Chinese economy. When China joined the World Trade Organization (WTO) in 2001, CMA CGM already has many commercial agencies that allow it to quickly become one of the leaders in maritime transport between China and the rest of the world.
In 1992, it is a vessel capable of transporting 250 containers calling in China every 15 days. Today it is a ship (18,000 containers) every three hours that leaves China.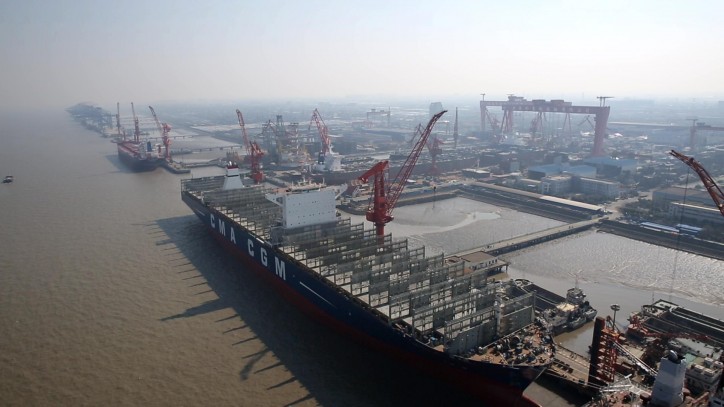 The aura of the Group in China earned it the nickname "Da fei" which means "The one who goes ahead".
25 years later, CMA CGM has become a key partner in the economic relations between France and China
CMA CGM in China today:
More than 3,000 people in 61 agencies;
119 shipping lines are calling 13 Chinese ports;
5 weekly services to France, nearly one daily departure from the port of Shanghai for France.
2 weekly services between Marseille / Fos and Shanghai.
CMA CGM has established numerous partnerships with Chinese groups:
CIMC in charge of the containers' construction;
China Merchants in charge of terminals;
COSCO within the maritime alliance, OCEAN Alliance.
The visit of the Mayor of Shanghai to CMA CGM head office this year in Marseille, France, follows the last visit of Chinese Prime Minister Li Keqiang in July 2015. It confirms CMA CGM's position in China and its recognition by one of the world's leading economic as one of the flowers of French industry.
Source: CMA CGM