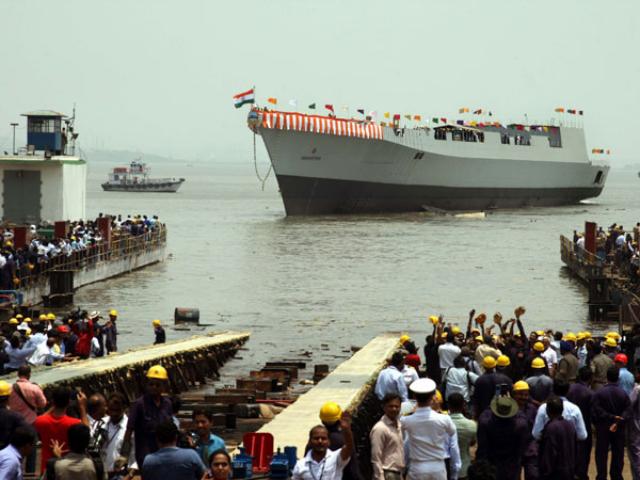 On Monday India's Navy launched its brand new stealth destroyer in Mumbai. The Kolkata-class warship was indigenously designed and equipped with high-tech features that help it contribute for boosting the firepower capability of the country's maritime forces.
The launching of the 163-metre-long ship, which is the first of the P15-B steal destroyers, was carried out at Mazagon Docks Ltd (MDL) by Minu Dhowan, wife of Admiral R K Dhowan, Naval Staff chief. The ceremony was attended by both MDL and top Navy officials.
The ship's weight during the launch was recorded to be roughly 3,000 tons.
The vessel's propulsion system consists of four gas turbines and is able to reach a top speed level of more than 30 knots at a fixated displacement of around 7,300 tons.
The stealth destroyer is set to feature one of the best weaponry systems, precise sensors, an Integrated Platform Management system, along with an advanced Action Information System and a cutting-edge Power Distribution System among a large number of other innovative features.
The ship was also equipped with a supersonic surface-to-surface missile system that enables her to pinpoint both naval and shore-based targets at a long range, which makes her a lethal platform against various enemy targets.
The air defense capability of the destroyer features a design that allows the vessel to efficiently counter enemy aircraft and anti-ship cruise missiles.
The ship will have four 30mm rapid-fire guns, which will provide her with close-in-defense capability, as well as an MR gun that will make it possible for the vessel to provide sufficient naval gunfire support.
The destroyer's anti-submarine capability is to be significantly boosted by twin tube torpedo launchers coupled with rocket ones, as the ship serves as a follow-on of the P15A Kolkata-class destroyers but has been designed to be with enhanced features.
The current P-15 class destroyers come along the lines of the Government's Make In India Policy and are thus one step ahead of their otherwise worthy predecessors.
The P15-B stealth destroyers' design was created by the Navy's in-house unit which is the Directorate of Naval Design. It serves as confirmation of the Navy's respective commitment for achieving indigenization through the use of cutting-edge technology regarding the broad field of weaponry systems/machinery/sensors and stealth.
Expectations are that the vessel will officially kick off the start of its Navy service in the year 2018.