Varna's Technical University's simulation center officially unveiled its brand new simulation wing back on the 21st of May, this year. The simulation center opened its doors back in 2012, but TU Varna knew that further expansion processes were a must. VSTEP is responsible for delivering and subsequently installing all of the simulators in the training center. The brand new wing comes along with a NAUTIS class A Full Mission Bridge Simulator, a NAUTIS Class B DP Simulator and a new classroom of the ECDIS Simulator type. By employing cutting-edge simulator technology, the DP class B simulator offers the option of being featured in a direct combination with the Class A FMB in order to make a complete multifunctional 360° Bridge setup. The bridge also offers the option to be turned into a Full Mission Tug Simulator.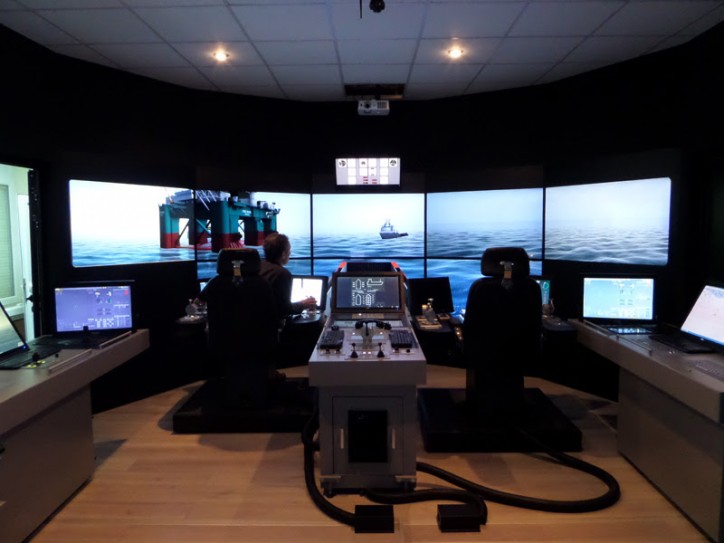 A large number of representatives of the university as well as Varna government officials attended the opening ceremony. Mr. Ovid Farhi, the Technical University's rector, and Varna's mayor, Mr. Ivan Nikolaev Portnih, were present at the opening.
Along with the FMB and DP simulators, the current NAUTIS ECDIS Classroom has been further equipped with five new ECDIS stations. It is now able to offer type approved training regarding all current ECDIS system modules such as Kelvin Hughes, Maris, SevenCS' E-Globe and NavMaster, which are all incorporated into the NAUTIS ECDIS Systems.
"By opening this brand new simulator wing we are reminded of TU Varna's importance as well as growth in its role of a maritime educational facility. Given our co-op effort with the university back in the year 2012, we are now proud to again have this opportunity to supply the necessary equipment for the new simulator wing. The DP simulator and Type Approved ECDIS simulator classroom will enable TU to further enhance and provide a very extensive and top-level curriculum of various maritime training courses," commented Pjotr van Schothorst, VSTEP's current CEO.
TU Varna's simulation center is among the top advanced training and education hubs the region has to offer. Since being selected as the center's simulator contractor back in 2012, VSTEP has managed to deliver five Engine Room Simulators, three NAUTIS Bridge Simulators, a DP Simulator, an Incident Command Simulator as well as a full classroom equipped with ECDIS trainers for the purposes of the facility.