The US-built fleet is considerably older than the global, non-US built fleet as a consequence of the Jones Act, which requires vessels travelling between US ports to be US built, owned, flagged and operated by a 75-percent American crew.
The current US-built fleet has an average age of 33-years old versus 13-years old for the global fleet. The most recent ships produced by US shipyards have been tankers, and the average age of US-built tankers is only five years older than the global fleet, according to the information provided by the VesselsValue.
"There has been virtually no US investment in bulkers (although many work on the relatively benign Great Lakes). Nonetheless, the US-built bulker fleet has an average age of 46-years old, versus nine-years for the fleet. Even a relatively modern ship type, such as containers, are on average 32-years old, positively ancient compared to an average of 11-years old for non-US built vessels," says Craig Jallal, VV's Senior Data Editor.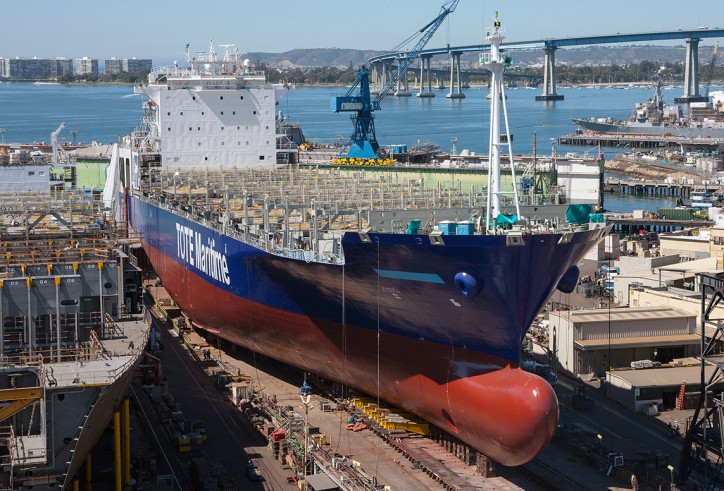 TOTE Maritime's Isla Bella, the world's first LNG-powered containership, at General Dynamics NASSCO in San Diego.
According to VesselsValue, there are currently 160 US-built bulkers, tankers and gas carrier vessels on order or on the water.
The total capacity of the US fleet is just over 7m DWT, with a total current value of USD 4.5bn. Globally, the USA is ranked in 11th place by capacity and a sixth place behind the South Korea, Japan, China, the Philippines, Germany and Turkey in terms of the current value of the US-built fleet.
Based on the volume of ships on the water, the most prolific ship builder has been NASSCO, the commercial and naval building subsidiary of General Dynamics Corp. This is the only deep-sea shipbuilding facility on the US West Coast in San Diego, with two other shipyards on the East Coast at Mayport and Norfolk. VesselsValue currently values the surviving output of NASSCO at around USD 900m.
The NASSCO shipyard has just launched the 53,700 DWT MR2 tanker Independence, which will be joined by two MR2 tankers on order at NASSCO for the Seabulk Tankers. The shipyard also has four MR2 tankers on order-book for the account of American Petroleum Tankers.
The only other US shipyard with bulker, tanker and gas carrier vessels on its orderbook is Philly Shipyard which mainly builds product tankers, but has also built four containerships. The Philly Shipyard built fleet is currently valued at just over USD 1bn. Its order-book consists of eight 50,000 DWT MR tankers and this design has been approved by ABS for LNG fueling.
Source: WorldMaritimeNews