Ardmore Shipping Corporation (NYSE: ASC) (Ardmore) yesterday announced results for the three and six months ended June 30, 2016.
Highlights
Reported a net profit of $5.5 million for the three months ended June 30, 2016, or $0.20 basic and diluted earnings per share, as compared to $7.9 million, or $0.30 basic and diluted earnings per share, for the three months ended June 30, 2015. The Company reported EBITDA (see Non-GAAP Measures section below) of$17.3 million for the three months ended June 30, 2016, as compared to $16.8 million for the three months ended June 30, 2015.
Delivered a solid chartering performance for the quarter, with spot and pool MR tankers earning an average of$16,302 per day for the three months ended June 30, 2016, with an average of 22.7 ships in operation.
Completed the sale of the Ardmore Calypso and Ardmore Capella during April and May 2016 for a total consideration of $38.5 million.
Agreed in June 2016 to acquire six modern Eco-Design MR product/chemical tankers for an aggregate purchase price of $172.5 million. The vessels, which have an average age of 2.4 years, are scheduled to be delivered to Ardmore on a charter-free basis between September and October 2016. The acquisition expands Ardmore's fleet to 28 vessels, or by approximately 32% on a tonnage basis, and is expected to be accretive to earnings and to net asset value.
Completed a public offering on June 13, 2016 of 7.5 million shares at an offering price of $8.90 per share. Net proceeds amounted to $64.1 million, which will be used to partially finance the acquisition of six recently acquired vessels. The remainder of the acquisition cost will be financed through debt and existing cash on hand.
Declared a cash dividend of $0.11 per common share for the quarter ended June 30, 2016, based on our policy of paying out 60% of earnings from continuing operations. The dividend will be paid on August 31, 2016 to all shareholders of record on August 16, 2016.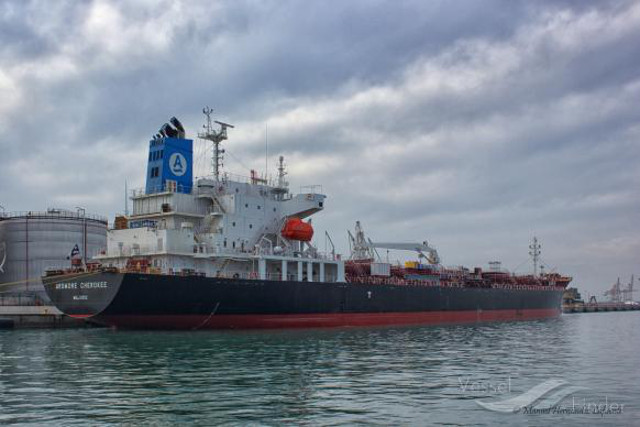 Chemical/Oil products tanker Ardmore Cherokee - Image: Manuel Hernández Lafuente
Anthony Gurnee, the Company's Chief Executive Officer, commented: "We are pleased to report our financial performance for the second quarter of 2016, as we achieved earnings of $5.5 million, or 20 cents per share, and declared a quarterly dividend of 11 cents per share.

Charter performance across the Ardmore fleet was solid, given overall market conditions, with a particularly strong performance from our chemical tankers. The spot market for MRs showed strength in the early part of the quarter, before softening in late May and June as a result of reduced refinery output and thus lower cargo volumes and trading activity. We anticipate a recovery of refinery output late in the third quarter, supporting MR tanker charter rates going into the historically stronger winter market.

We are very positive on MR spot rates beyond the current short-term softness, and we believe that fundamental product tanker demand growth continues to be strong in the 4-6% range. We expect this continuing growth to result in an increasing supply-demand tension as the pace of new vessel deliveries falls off significantly during the third quarter and the orderbook for MR product tankers declines to approximately 5% of the fleet by year-end, the lowest level in at least 20 years. As a result of these factors, we anticipate that fleet growth net of scrapping will decline to only 2-3% in 2017 and will be meaningfully outstripped by demand growth for the foreseeable future.

We are also very pleased with our recent acquisition of six Eco-Design MR product tankers, which we believe comes at an ideal point in the evolution of the product tanker trade and will position us to maximize shareholder value in a strengthening market. These high quality, fuel-efficient, Korean-built vessels have an average age of 2.4 years and were acquired at a very attractive en-bloc price made possible by our strong balance sheet and prudent, opportunistic approach to fleet growth. We believe that this acquisition is accretive to NAV and will be highly accretive to earnings upon delivery of the vessels, commencing in the third quarter of 2016, by virtue of the low acquisition cost and improved cost efficiencies. Following delivery, our revenue days will increase by 23% for the fourth quarter and by a further 15% for the full year 2017."
Please find full financial report here:
Source: Ardmore Shipping