Vulica Shipping Co. Ltd. has selected DuPont Clean Technologies for the supply of a DuPont Marine Scrubber produced by DuPont subsidiary Belco Technologies Corporation (BELCO). The hybrid single-stream scrubber was designed by BELCO to be retrofitted to MV H.A. SKLENAR, a self-unloading bulk carrier that operates along the Gulf of Mexico. The vessel is owned by Vulica Shipping Company Ltd., a subsidiary of Vulcan Materials.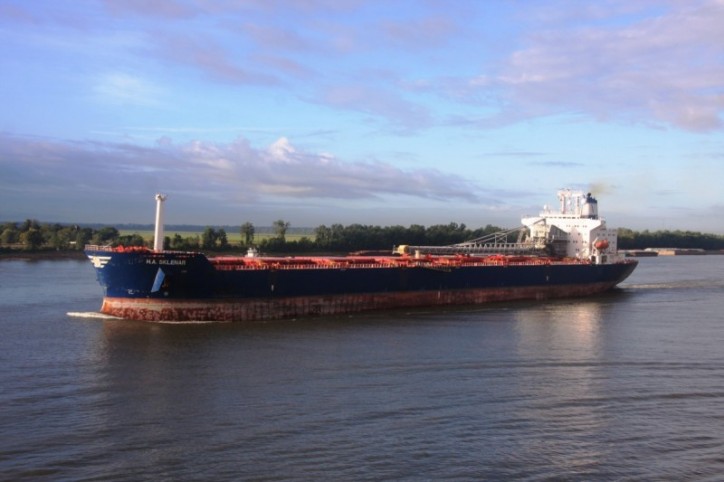 Self Discharging Bulk Carrier H A SKLENAR - Image courtesy: Shipspotting/Captain Ted
"We designed the exhaust gas scrubber tower and scrubber system so Vulica could efficiently treat the exhaust gas produced by the main diesel engine on MV H.A. SKLENAR," Garrett Billemeyer, Technology Development manager explained.
"This type of DuPont Marine Scrubber hybrid design provides the most flexibility when a vessel is in an Emission Control Area (ECA), because it can operate in both open or closed loop mode. All DuPont Marine Scrubbers are mechanically designed for the full exhaust gas temperature, allowing the scrubber to also operate 'dry'. This makes it possible for vessels to move in and out of an ECA with ease, without requiring additional by-pass exhaust ducting and equipment at times when flue gas treatment is unnecessary."

Vulica representative, Atul Sabharwal, general manager, Vulica Shipping states, "The DuPont Marine Scrubber will allow the MV H.A. SKLENAR to meet all U.S. Coast Guard, U.S. EPA and IMO SOx emission and washwater requirements for scrubbers. This investment allows us maximum fuel flexibility to meet current ECA requirements as well as prepare for the proposed IMO 2020 global cap on SOx emissions. We previously selected DuPont for marine scrubbers on two new ships that are presently under construction in China."
Installation of the new DuPont Marine Scrubber onboard the MV H.A. SKLENAR is scheduled for completion by April 2017.